This recipe is from Chocolate Covered Katie, a healthier dessert blog. It is very easy to make, and quick because there is no baking involved. It tastes like a rich chocolate cream pie, but is made with a vegetable (pumpkin) instead of cream, making this recipe lower in saturated fat, higher in beneficial nutrients, and can also be made vegan/dairy-free! This recipe can be made gluten-free if you skip the pie crust, making it into more of a mousse, or making your own pie crust with a nut base. I found that the mixture has a stronger pumpkin taste at first, but tastes more just like a chocolate pie after chilling for one day.
If you're highly motivated, you can make this pie with fresh, homemade pumpkin puree. If not, use canned. You may find that certain brands, especially organic brands, have a different taste from the canned pumpkin with which you are more familiar. That is because canned pumpkin can be made with different blends of pumpkin and other squash. This may be off-putting, but again, this pie seems to lose the strong pumpkin flavor after one day.
You may find pumpkin in an aseptic carton (brand name Tetra Pak) rather than a can. Please note that these cartons are not recyclable in all areas, so check here to find out if these shelf-stable cartons can be recycled where you live.
Chocolate Pumpkin Pie (No Bake)

Print recipe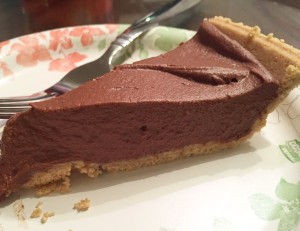 It tastes like a rich chocolate cream pie, but is made with a vegetable (pumpkin) instead of cream! This makes the pie much lower in saturated fat and higher in nutrients, and also can be made vegan
Ingredients
1 cup dark chocolate chips (look for dairy-free/vegan if making for a crowd with vegans or milk allergies)
1 3/4 cup pumpkin puree (or 1 can (not pumpkin pie mix))
1/4 cup sugar
1 teaspoon vanilla extract
2 teaspoons cocoa powder
16 drops liquid stevia (or replace with a little extra sugar to taste)
1/4 teaspoon salt
1 store-bought pie crust
Directions
Step 1
Melt chocolate in a bowl in the microwave, heating for 30 seconds at a time and stirring, repeating until just melted.
Step 2
Place pumpkin, sugar, cocoa powder, vanilla, and salt in food processor and puree. Add melted chocolate and puree until very smooth. You can taste the mixture at this point and add a little more sugar if necessary.
Step 3
Pour pumpkin mixture into pie crust and use a spatula to smooth it out. Refrigerate until firm, at least 4-6 hours. This pie seems to taste more like a chocolate cream pie and has less pumpkin flavor after being refrigerated for one day, which you may consider a good thing! Serve chilled.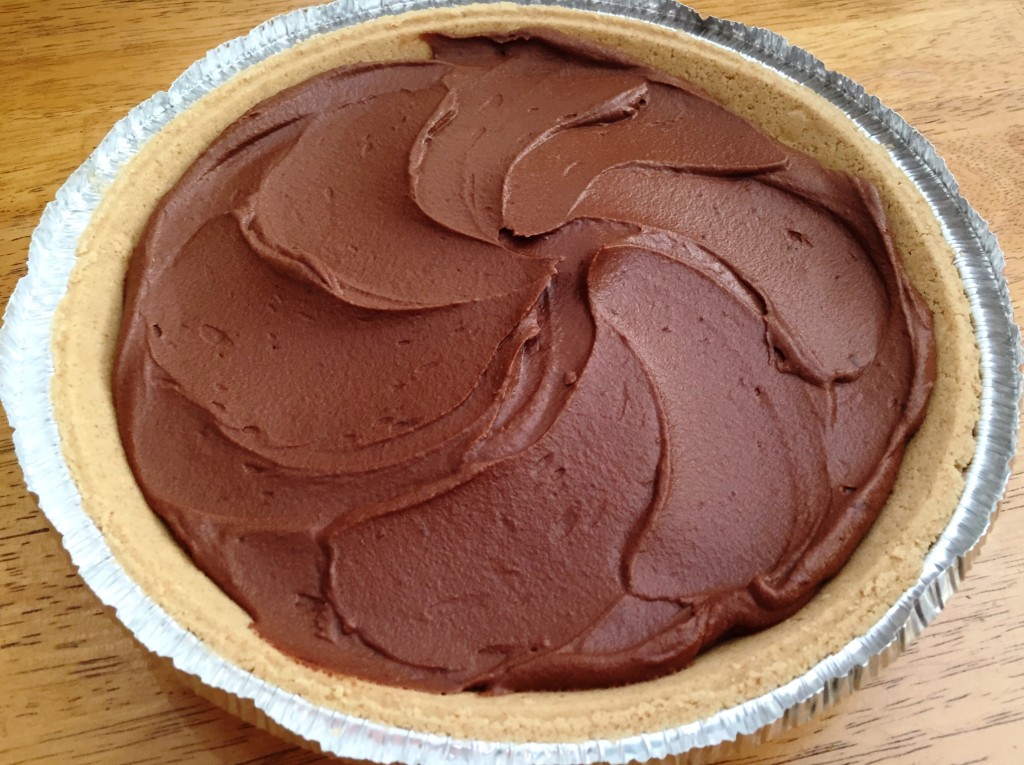 Shown in a whole grain pie crust, which you may be lucky enough to find at your grocery store!