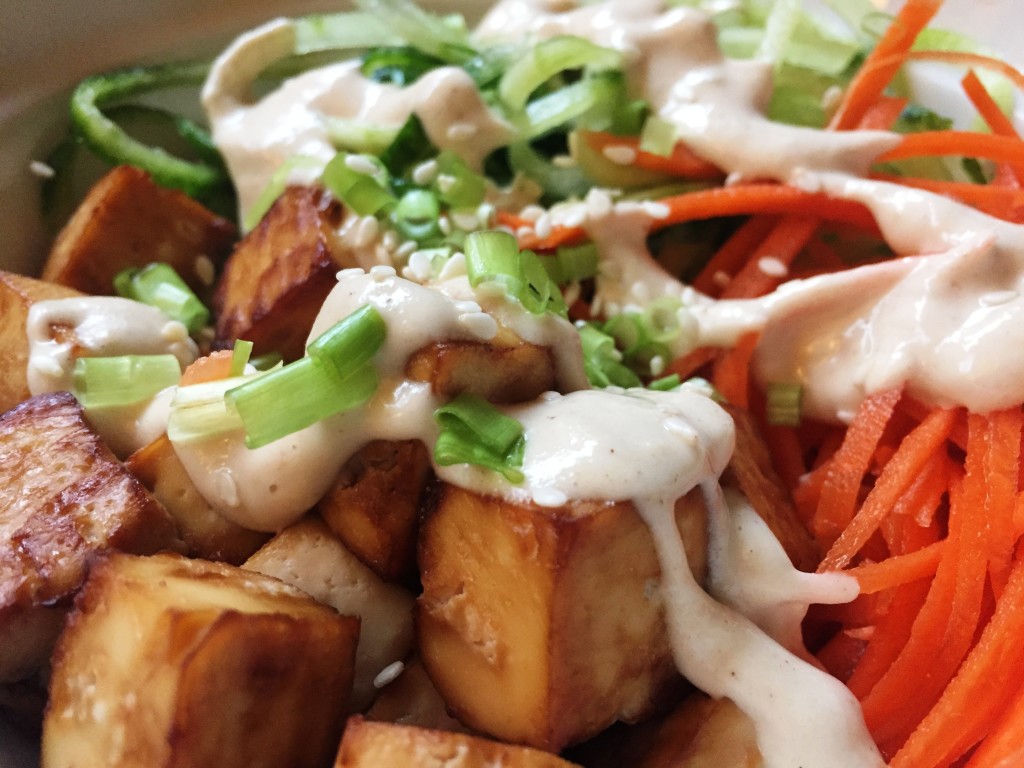 Put a twist on traditional salad and enjoy it in the form of "noodles!" With all the components of a salad (raw vegetables, dressing, and a healthy protein), this recipe is hearty enough to fill you up but light enough to keep you from feeling sluggish. It is a perfect meal to make ahead and bring to work or school for lunch.
Recipe inspired by Inspiralized.
Tahini Cucumber Noodles

Print recipe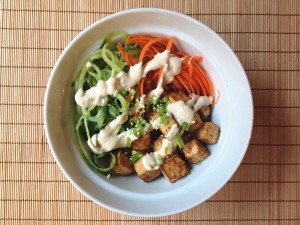 Put an exciting *spin* on traditional salad and turn it into "noodles"! Simple combine cucumber, carrots, tofu and a delicious creamy dressing for a tasty lunch or dinner.
Ingredients
1 14-ounce package firm tofu, drained
2 tablespoons reduced sodium tamari or soy sauce
3 English cucumbers (about 6 cups)
2 carrots, peeled (about 1 cup)
1/4 cup tahini
3 tablespoons rice vinegar
2 tablespoons water
1 teaspoon sesame oil
1 clove garlic, minced
1/4 teaspoon salt
2 stalks green onion, sliced (for garnish)
Directions
Step 1
Preheat oven to 400°F. Line a baking sheet with parchment paper.
Step 2
Cut tofu into 3 slices and place between two towels. Place a heavy object such as a cast iron skillet on top to squeeze out the moisture and let sit for 15 minutes, if possible.
Step 3
Cut tofu into cubes and toss with tamari. Let sit for 15 minutes, if possible. Place tofu cubes on baking sheet and bake for 30 minutes, turning once, or until slightly crisp on the outside.
Step 4
Meanwhile, use a spiral slicer to cut the cucumber and carrots into noodles. Alternatively, use a julienne peeler to cut vegetables into long strips.
Step 5
In a small blender or food processor, combine remaining ingredients to make the dressing. Add more water, 1 tablespoon at a time, if necessary, to reach desired consistency. The dressing should be thin enough to pour but not too watery. Refrigerate until ready to serve.
Step 6
In 4 bowls, divide the cucumber, carrots, and tofu. Toss with dressing and serve cold. Garnish with green onion (and sesame seeds if desired).
Step 7
If making this recipe ahead of time for individual meals, portion out the vegetables and tofu into containers. Before serving, pour out any excess water that has been released from the cucumbers. Store the dressing separately and combine just prior to serving.