French toast is a very popular breakfast item at restaurants, but is the opposite of a balanced meal. Traditional versions are prepared using white bread (refined flour) and high amounts of sugar, often followed by a flooding of sugary maple syrup or artificial "pancake syrup" or "original syrup." Did you ever notice that those cheaper syrups at the grocery store aren't even called "maple syrup"?
Instead, this recipe replaces the unhealthy white bread with much healthier apples, and contains no added sugar. Try serving this recipe with something other than syrup, such as fresh berries, nuts, and/or natural nut butter.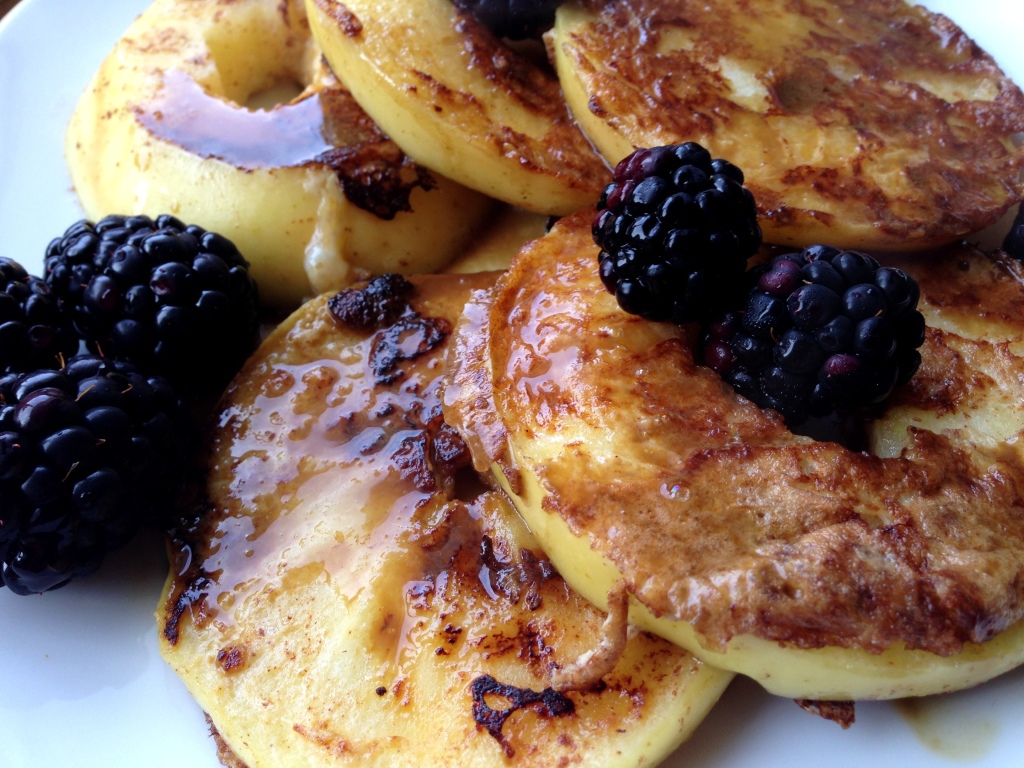 French Toast Apples

Print recipe
This healthy recipe replaces white bread with apples to make a delicious French "toast."
Ingredients
2 Medium to large apples
1 Large egg
1 tablespoon unsweetened almond milk
1 teaspoon ground cinnamon
1/2 teaspoon virgin coconut oil (or other medium to high heat cooking oil)
Optional
6-8 drops liquid stevia
1/2 teaspoon vanilla extract
Directions
Step 1
Cut the apples into 1/2 inch rounds, then use a paring knife to cut out the core.
Step 2
In a medium bowl, whisk the eggs, almond milk, cinnamon, and if using, vanilla and stevia.
Step 3
Heat a nonstick skillet (non-Teflon preferred) over medium heat. Add the oil.
Step 4
Dip the apple slices into the egg mixture, then onto the skillet. When the bottoms become golden brown, about 3 minutes, flip the apples with a spatula and cook the other side until golden brown, about 3 minutes.
Step 5
Repeat step 4 until all apple slices are cooked. Remove from pan and serve with your choice of berries, a touch of maple syrup, or nut butter.