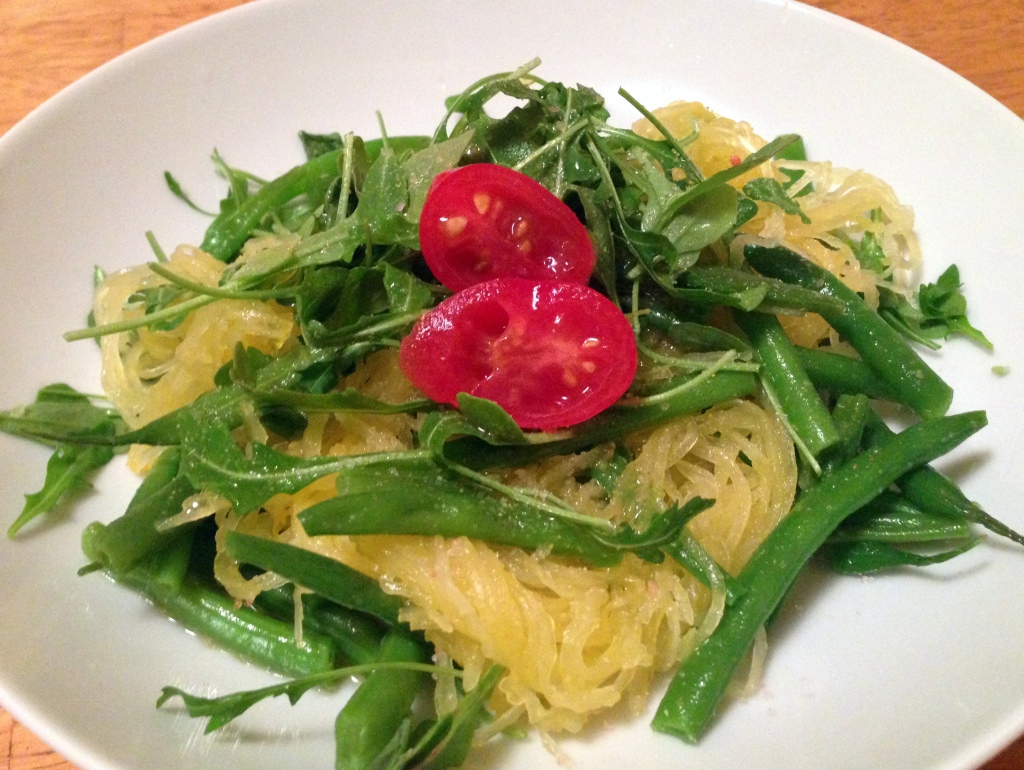 This "pasta" dish is so full of flavor that you won't care that it's spaghetti squash, not spaghetti! The truffle oil is optional, but really gives this dish a huge boost in rich, earthy flavor.
Truffle Spaghetti Squash with Green Beans, Arugula, and Truffle Oil

Print recipe
This rich and flavorful pasta dish is so tasty that you will forget you're eating spaghetti squash, not spaghetti!
Ingredients
1 Medium spaghetti squash
1/2 to 1lb green beans (trimmed and cut into 1-inch pieces)
handful baby arugula
drizzle of extra virgin olive oil
garlic powder to taste
salt to taste
Optional
Directions
Step 1
Preheat oven to 400 degrees F. Slice the spaghetti squash in half and remove the seeds and stringy flesh. Drizzle with olive oil, rub the oil over the inside and outside of the squash, and place face down on a baking sheet.
Step 2
Bake for 30-40 minutes, until squash is fork tender or flakes easily with a fork. Let cool.
Step 3
Bring a saucepan of water to a boil, then add green beans. Blanch for 2-3 minutes for thin beans and 4-5 minutes for thick beans. Drain.
Step 4
Once the squash is cool enough to handle, shred the flesh into strands with a fork. In a large bowl, combine the squash, green beans, and arugula. Drizzle with oil, and sprinkle with salt and garlic powder to taste.