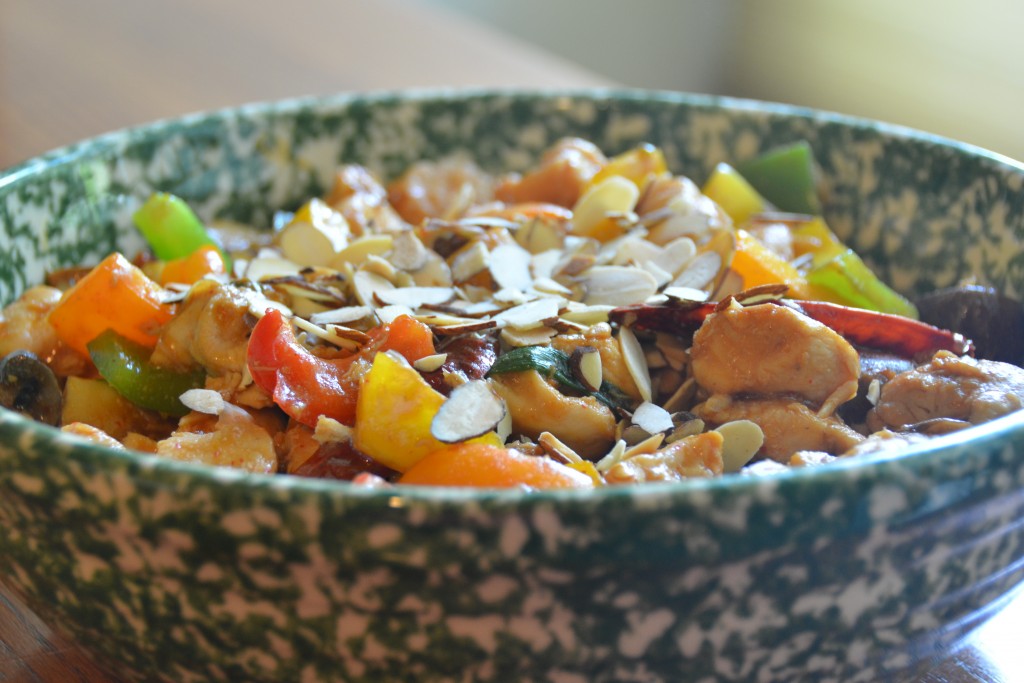 Kung Pao Chicken

Print recipe
This recipe isn't perfectly authentic, but it is tasty and uses pretty wholesome ingredients.
Ingredients
1lb chicken breast (cut into 1-inch cubes)
1 tablespoon coconut oil
2 cups mushrooms (quartered)
2 bell peppers (chopped)
4-6 green onions (cut into 1-inch pieces)
2 tablespoons corn starch (non-GMO and/or organic) (divided)
1 tablespoon water
3 tablespoons reduced sodium tamari (divided)
2 tablespoons sriracha sauce
2 teaspoons rice wine vinegar
10-12 dried red chiles
1/4 cup nuts, such as peanuts or cashews
Directions
Step 1
In a medium bowl, combine chopped chicken with 1 tablespoon corn starch and 1 tablespoon tamari, Let sit for a few minutes while you chop the other vegetables.
Step 2
Preheat a wok over medium-high heat and add coconut oil. Add chicken and cook until all sides are opaque.
Step 3
Add mushrooms and cook for another 3-5 minutes. Add bell peppers and cook another 2-3 minutes. Add green onions and dried red chilis and cook for about 2 minutes.
Step 4
Meanwhile, combine tamari, rice wine vinegar, sriracha, and 1 tablespoon corn starch dissolved in 1 tablespoon water. Add to the wok after you finish cooking the chicken and vegetables. Stir to combine and turn down heat. Cook for 1-2 minutes or until sauce has thickened.
Step 5
Top with nuts and serve.