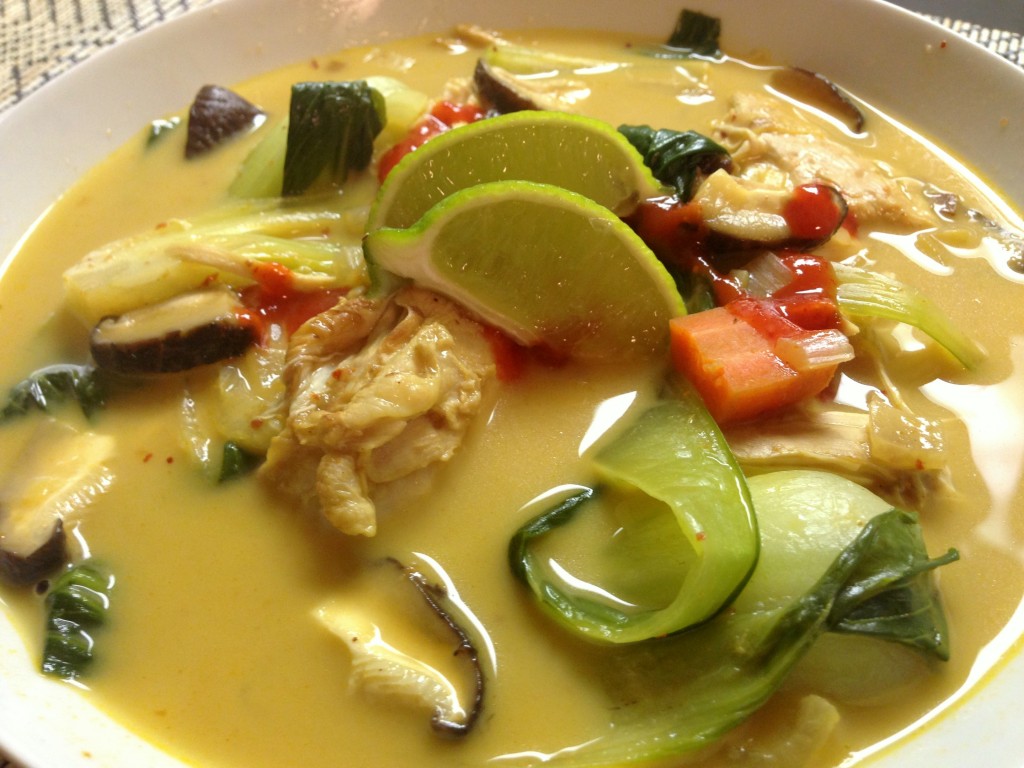 Ingredients
1 tablespoon virgin coconut oil
1 leek, white and light green parts only, thinly sliced
2 shallots, minced
2 carrots, diced (or more)
1 pound boneless skinless chicken breast (about 2 medium-large), organic and free-range preferred
1 quart (4 cups) low sodium broth (chicken or vegetable) + 2 cups water (or more broth)
2 cups mushrooms, sliced
3-4 pieces baby bok choy, sliced lengthwise
2 tablespoons fish sauce
2 tablespoons red curry paste
2 teaspoons curry powder
2 teaspoons sriracha
1 15 ounce can full-fat coconut milk
1 lime, sliced into wedges
Directions
In a large stock pot, heat the coconut oil over medium heat. Add the leeks, shallots, and carrots, and cook for 2-3 minutes, until fragrant.
Add the chicken breasts and brown both sides, about 4 minutes per side. Be sure to stir the vegetables to prevent them from burning.
Add broth and water, bring to a boil, then simmer for at least 30 minutes (longer for more tender chicken).
Add mushrooms and bok choy and cook until they are almost tender. Add all remaining ingredients except sriracha and lime wedges, and heat thoroughly. Remove the chicken breasts from the soup and shred with two forks, then add back to the pot.
Serve with a squirt of sriracha and 1-2 lime wedges.
Notes
You can add whatever vegetables you like. In Thai food, carrots, mushrooms, and greens are great. However, you could add broccoli, bell peppers, celery, or other vegetables you like.
In this recipe, shallots and leeks were used, but onion and garlic would be fine too.
You can use different combinations of seasoning. For example, you can use extra curry powder and omit the curry paste if you don't have it. You can also leave out the fish sauce and add tamari instead. Make this soup according to your tastes and what ingredients you are willing to buy.