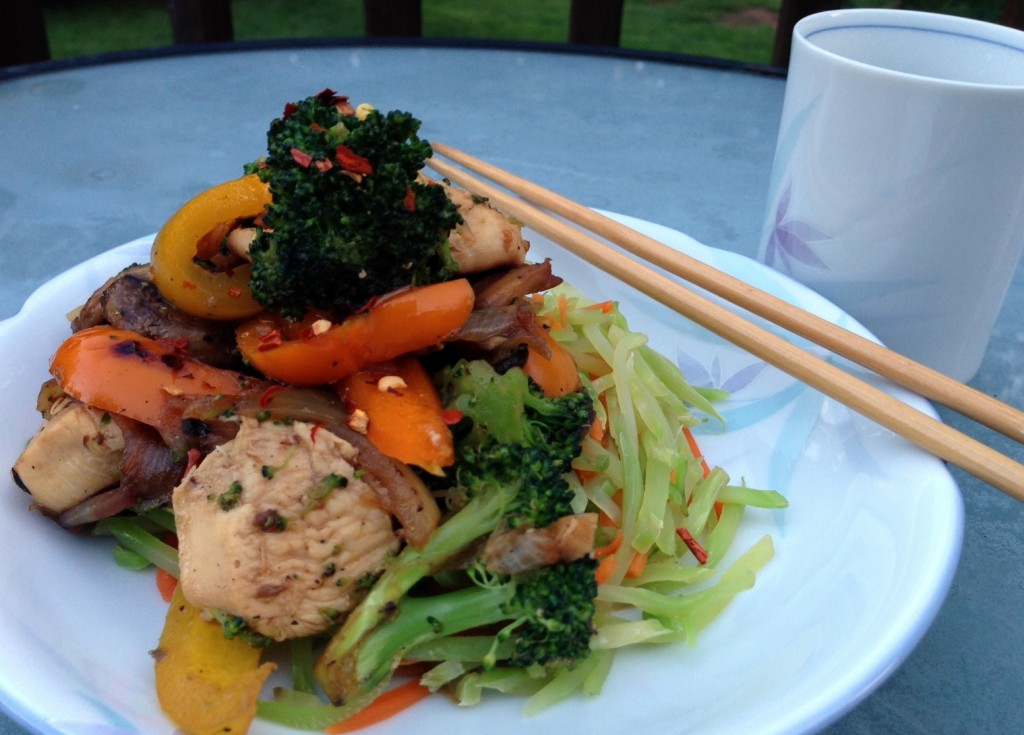 Ingredients
1 lb Chicken Breast or Tenders, cut into small pieces
Variety of Vegetables, cut into bite-size pieces (broccoli, carrots, mushrooms, bell peppers, snow peas, asparagus, etc.)
1 Onion, Diced
4 Tbsp Coconut Oil
1 Tbsp + 1 tsp Cornstarch or Arrowroot Starch
½ Cup Chicken broth
2-4 Tbsp Tamari (organic and low-sodium preferred)
Optional: sesame seeds or sliced green onions (garnish)
Directions
1. Mix 1 tsp cornstarch or arrowroot with chicken broth, set aside.
2. Combine 1 Tbsp cornstarch/arrowroot with tamari and chicken, mix well, and set aside.
3. Preheat wok on high heat. Add 2 Tbsp coconut oil to wok, then add chicken, and cook until opaque, about 3 minutes. Remove chicken and set aside.
4. Add remaining oil to wok, add vegetables (in order of decreasing density), and cook until tender-crisp. Add enough tamari to coat.
5. Return chicken and both mixture to pan, stir until liquid boils and thickens, about 1 minute.
Optional: garnish w/sesame seeds or sliced green onions.
You can substitute chicken for beef, shrimp, scallops, or whatever you'd like! Serve over steamed broccoli slaw, riced cauliflower, brown rice, or quinoa.