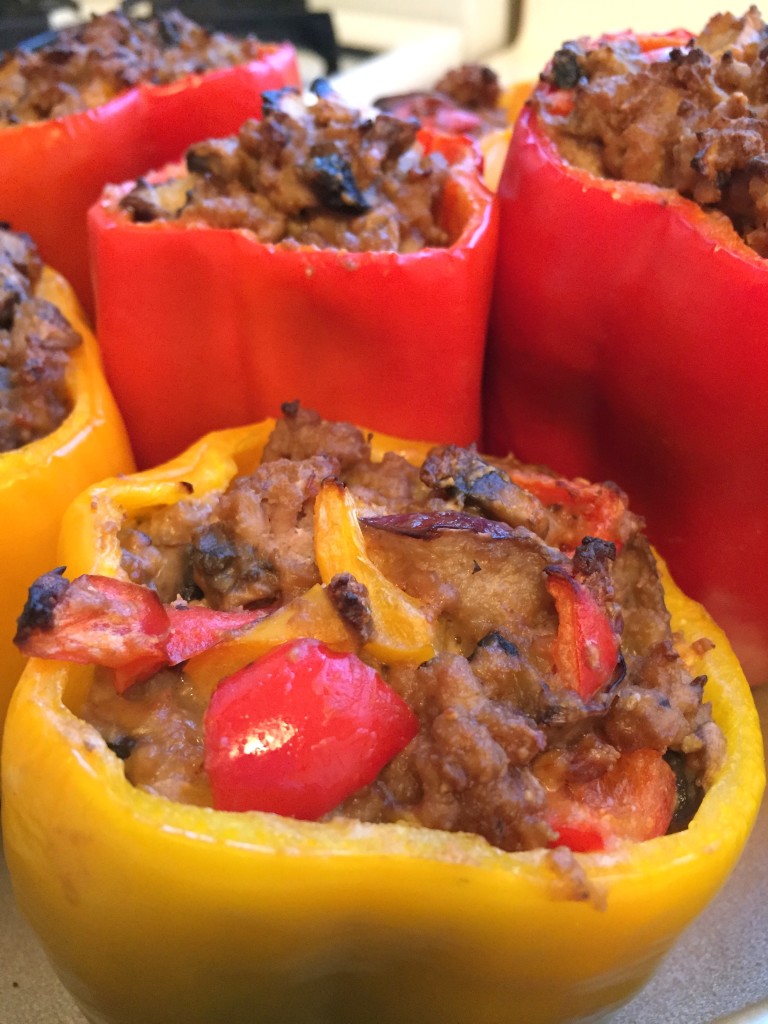 Change up the standard old stuffed peppers with this Thai-flavored recipe that loads up the veggies, turns up the flavor, and skips the cheese. To make this a vegan/vegetarian dish, use precooked whole grains such as quinoa, buckwheat, or brown rice instead of turkey.
Thai Stuffed Peppers

Print recipe
| | |
| --- | --- |
| Serves | 6 |
| Prep time | 25 minutes |
| Cook time | 25 minutes |
| Total time | 50 minutes |
Tired of plain old stuffed peppers? Add some international flair with these healthy Thai stuffed peppers.
Ingredients
6 medium bell peppers
1 tablespoon cooking oil, such as canola, coconut, or olive
1lb lean ground turkey (organic preferred, or at least no antibiotics used)
1/2 cup yellow onion (diced)
1 teaspoon garlic (minced)
2 cups Chinese or Japanese eggplant (chopped)
2 cups white mushrooms (diced)
1/2 cup natural peanut butter (organic preferred)
1 1/2 tablespoon low sodium tamari or soy sauce
2 teaspoons sambal oelek or other hot/chili sauce to taste
Directions
Step 1
Preheat oven to 400˚F. Cut tops off bell peppers and set aside. Remove rind and seeds from the inside and discard. Remove bell pepper stems and chop, then set aside.
Step 2
Heat oil in a large skillet over medium high heat. Add the onion and turkey and stir occasionally until meat is mostly cooked, about 3-4 minutes. Add garlic, eggplant, and mushrooms, until vegetables start to soften, stirring occasionally. Add chopped bell pepper tops and cook for about 1 minute.
Step 3
Combine peanut butter, tamari, and sambal oelek in a small bowl, blender, or food processor. Stir into turkey mixture and remove from heat. Place bell pepper bottoms into a baking dish such as an 8x8" pan or cake pan. Fill with turkey mixture, then bake for 20-25 minutes until tops start to brown and bell peppers become tender and look a little shriveled on top. Serve warm.