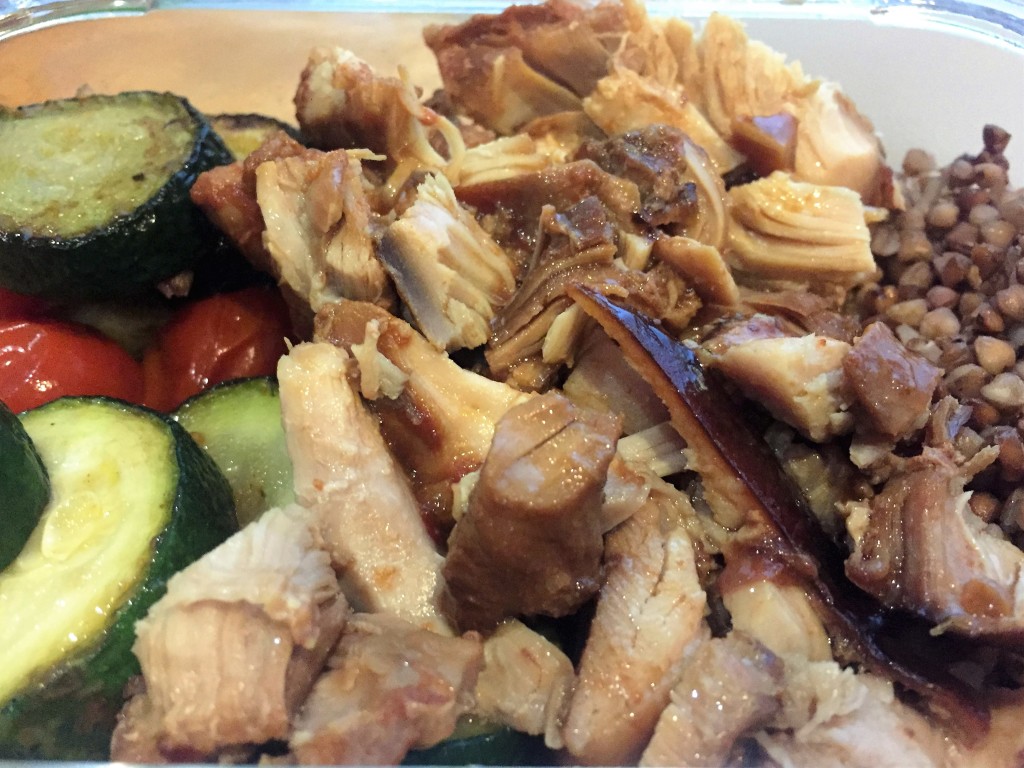 Bourbon chicken is often found in food courts but is covered in sticky (sugary) sauce. This recipe drastically reduces the added sugar (almost 1/2 cup in most recipes) to just 1 tablespoon, but you could give or take a little. If you stick to 1 tablespoon, you're using about 1/8 of the sugar added to most recipes. You can also use chicken breasts, but it will be less traditional, and less tender and juicy. Chicken thighs are still considered a lean meat, but be sure to remove the skin or buy skinless chicken. This recipe uses low and slow heat to keep the chicken juicy, rather than any added fat. If you are not serving this meal right away, you can also skim the fat from the sauce once it is cooled or refrigerated. Also, use the best quality chicken you can afford – organic and free-range is preferred. If you cannot afford or find that, at least aim to buy chicken without antibiotics.
Although the name includes bourbon, there is none in this particular recipe. If you'd like, you can add 2-4 tablespoons of bourbon and reduce the apple juice by that amount.
Serve this meal with your choice of cooked whole grain (buckwheat – pictured, quinoa, brown rice, wild rice, etc.) and a green salad or other vegetables.
Easy Slow Cooker Bourbon Chicken

Print recipe
| | |
| --- | --- |
| Serves | 5-6 |
| Prep time | 10 minutes |
| Cook time | 4 hours |
| Total time | 4 hours, 10 minutes |
| Meal type | Main Dish |
Make juicy and flavorful chicken at home, similar to the bourbon chicken in the food court, except with much less sugar and better quality ingredients.
Ingredients
1 1/2lb boneless skinless chicken thighs (organic and free-range preferred)
1/4 cup low sodium tamari or soy sauce
1/4 cup apple juice (or substitute white wine)
2 tablespoons tomato paste
1 tablespoon apple cider vinegar
1 tablespoon sugar
2 cloves garlic (minced)
1 teaspoon ginger (minced)
1 pinch red pepper flakes
Directions
Step 1
In a medium bowl, whisk together all ingredients except the chicken.
Step 2
Place chicken in a slow cooker, then pour sauce over. Move the chicken around so that it is covered with sauce and in an even layer.
Step 3
Cook on high for 4-6 hours.
Step 4
Remove chicken from slow cooker and slice. Optional: Pour sauce into a saucepan and simmer over low heat to reduce it until thickened, or mix a little cornstarch or arrowroot starch with water, then stir into sauce and cook, stirring constantly, until thickened.
Step 5
Pour remaining sauce over chicken. Serve over your favorite whole grain (try buckwheat, quinoa, or brown rice) and with a green salad.