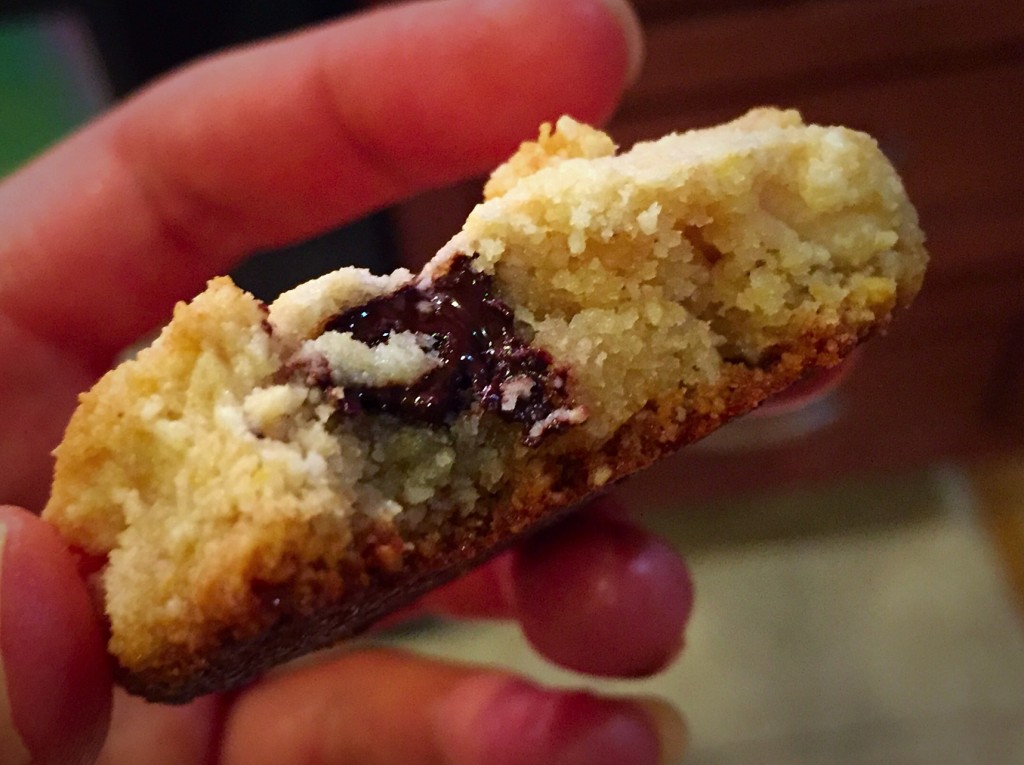 These cookies are just enough to satisfy a craving for something sweet, without any refined flours, little added sugar (less than 1/2 teaspoon per cookie if you use unsweetened chocolate), and are vegan/dairy-free if you use vegan chocolate. For those with celiac disease or gluten sensitivity, they are also gluten-free. If you are low on chocolate, you can replace half of it with chopped nuts (that's what I did in these pictures).
Almond Chocolate Chip Cookies

Print recipe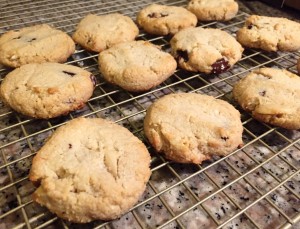 These low sugar cookies have a nice almond and coconut flavor and are not overly sweet. If vegan chocolate is used, they are vegan/vegetarian, gluten-free, and considered paleo.
Ingredients
1 1/4 cup almond meal
1/4 teaspoon salt
1/4 teaspoon baking soda
1/4 cup virgin coconut oil (softened but not melted)
2 tablespoons maple syrup or agave nectar
1 teaspoon vanilla extract
18 drops liquid stevia (or 2 more tablespoons maple syrup or agave nectar, and omit almond milk)
2 tablespoons almond milk or coconut beverage
1/4 cup dark chocolate chip (or dark chocolate bar, chopped)
Directions
Step 1
Preheat oven to 350°F.
Step 2
In a medium bowl, combine almond meal, salt, and baking soda. In a small bowl, combine coconut oil, maple syrup, vanilla extract, and stevia. Stir until well mixed. Add wet ingredients to dry and mix well. Stir in chocolate chips.
Step 3
Roll about 1 1/2 tablespoons of dough into a ball, and flatten to about 3/4 inch on a baking sheet. Repeat with remaining dough.
Step 4
Bake 8-10 minutes, or until light brown on the edges. Let cool for two minutes, then transfer to a cooling rack. Store in an airtight container.
Don't forget to vote for Guess Who's Cooking for Healthline's Best Health Blog! You can vote daily with both Facebook and Twitter. Thank you for your support!