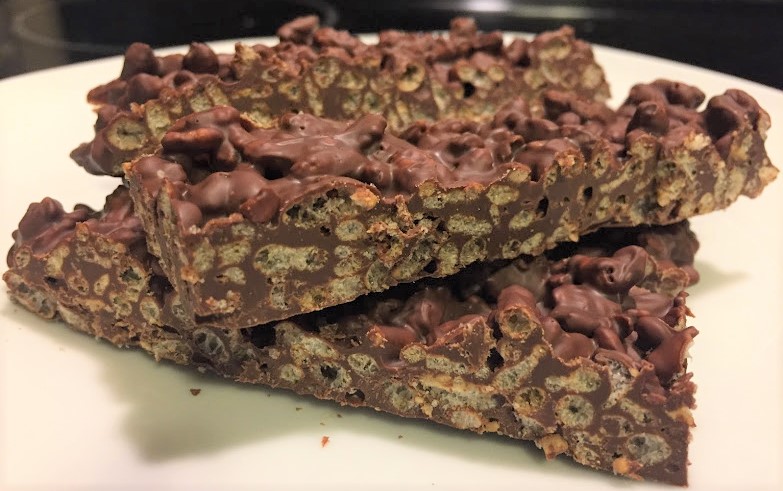 These bars make a fun and healthi-er gift. They are very easy to make – all you have to do is melt chocolate and stir in cereal. They can be made vegan and/or gluten-free if you check the ingredients on the chocolate and cereal. If these need to be made gluten-free, be extra careful to check the cereal as some rice cereal is sweetened with malt syrup, which is made from barley, a gluten-containing grain.
2-Ingredient Crispy Rice Bars

Print recipe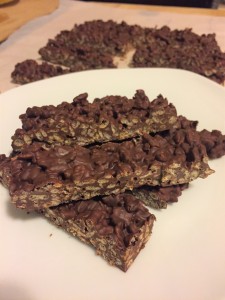 These 2-ingredient candy bars are very easy to make and can be made vegan and gluten-free. They make a great edible gift!
Ingredients
1 1/2 cup dark chocolate chips
1 1/2 cup crisped brown rice cereal
Directions
Step 1
Line a baking sheet with parchment paper and set aside.
Step 2
Melt the chocolate in a double boiler, stirring constantly until melted. Alternatively, heat the chocolate in a microwave-safe bowl in 30 seconds increments, stir, and repeat until melted.
Step 3
Gently stir in cereal and mix until all of the cereal is coated.
Step 4
Pour the cereal mixture onto the prepared baking sheet and spread into a square in an even layer. Chill in the refrigerator for at least 30 minutes or until firm.
Step 5
Place the parchment paper and bars on a cutting board. Cut the square in half and then cut into smaller bars. Store in an airtight container at room temperature.
There are many options for ingredients that you may use, but if you'd like to know the exact brands used in these photos, see below.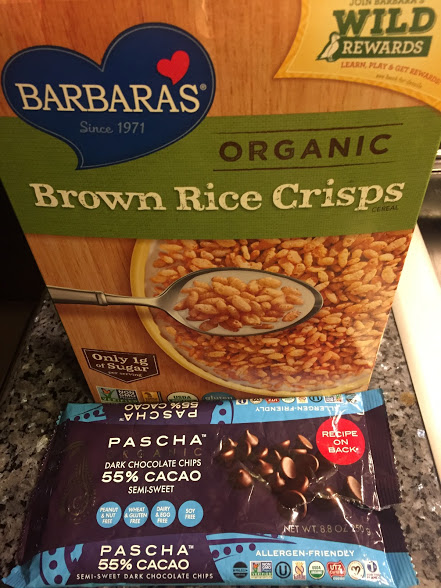 I used Barbara's Organic Brown Rice Crisps cereal, which was labelled vegan and gluten free ("Verified to contain less than 20 ppm gluten") at the time I bought it. It contained 1g sugar per 1 cup serving and was sweetened with organic fruit juice concentrate (pear or apple).
For the chocolate, I used Pascha Organic Dark Chocolate Chips, 55% Cacao, Semi-Sweet. It was "allergen-friendly," vegan, and gluten-free.