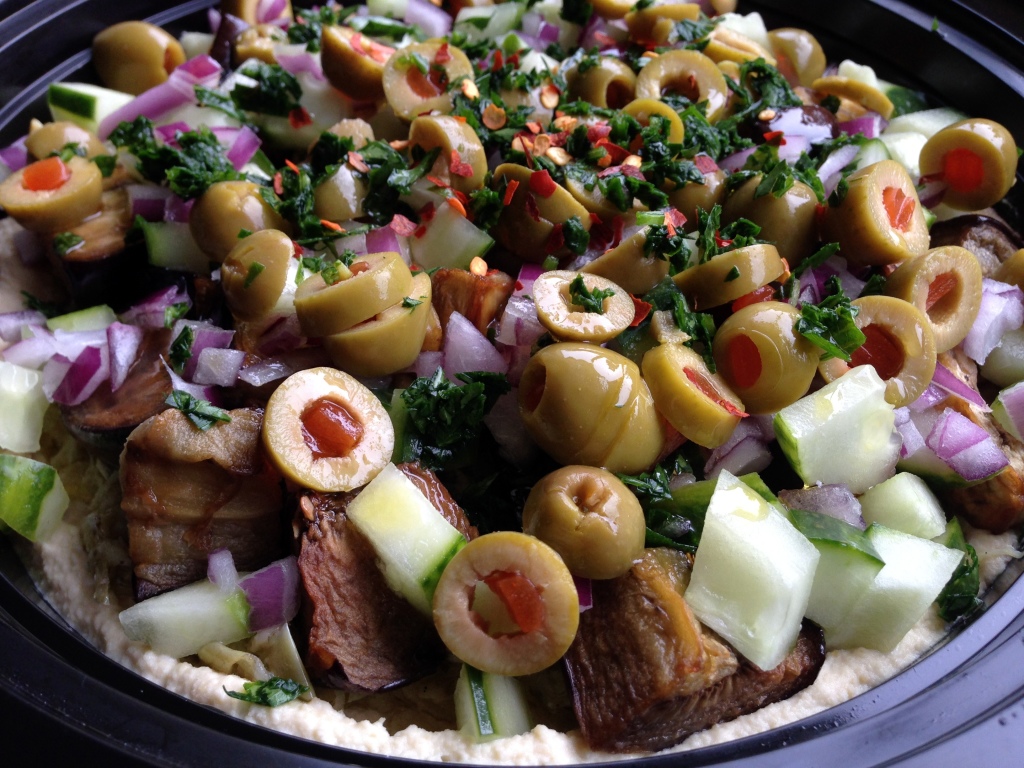 This layered dip is full of flavor and a much healthier alternative to layered Mexican dip. You can add or omit any ingredients according to personal preference.
To make roasted eggplant – cut into small cubes, toss with olive oil and salt, and roast at 350°F for 25-30 minutes, or until tender and light golden brown. Let cool before adding to dip.
For the hummus, either make your own or use a packaged hummus. It doesn't necessarily
have to be 2 cups, it can be less.
Layered Mediterranean Dip

Print recipe
| | |
| --- | --- |
| Serves | 8 - 10 |
| Prep time | 10 minutes |
| Meal type | Appetizer |
This healthy layered dip is a perfect appetizer for a party or potluck, and happens to be entirely plant-based.
Ingredients
2 cups hummus
1 cup roasted eggplant (chopped)
1 cup cucumber (diced)
1/2 cup marinated artichoke hearts
1/4 cup sun dried tomatoes (julienned)
1/4 cup olives (any kind) (sliced)
1/4 cup red onion (minced)
1-2 tablespoon extra virgin olive oil
2 tablespoons pine nuts (toasted)
2 tablespoons fresh parsley (minced)
Optional
1/2 teaspoon red pepper flakes
Directions
Step 1
Layer all ingredients in a shallow dish, starting with the hummus, then roasted eggplant. The other ingredients except olive oil and pine nuts can be layered in any order, but the order listed is recommended. Drizzle the olive oil on top when finished layering. Any ingredients can be omitted to suit personal preference. Add pine nuts just prior to serving.
Step 2
Refrigerate until ready to serve. Add pine nuts. Serve with raw veggies such as bell pepper strips, halved and seeded mini sweet peppers, or cucumber slices, or whole grain baked pita chips.