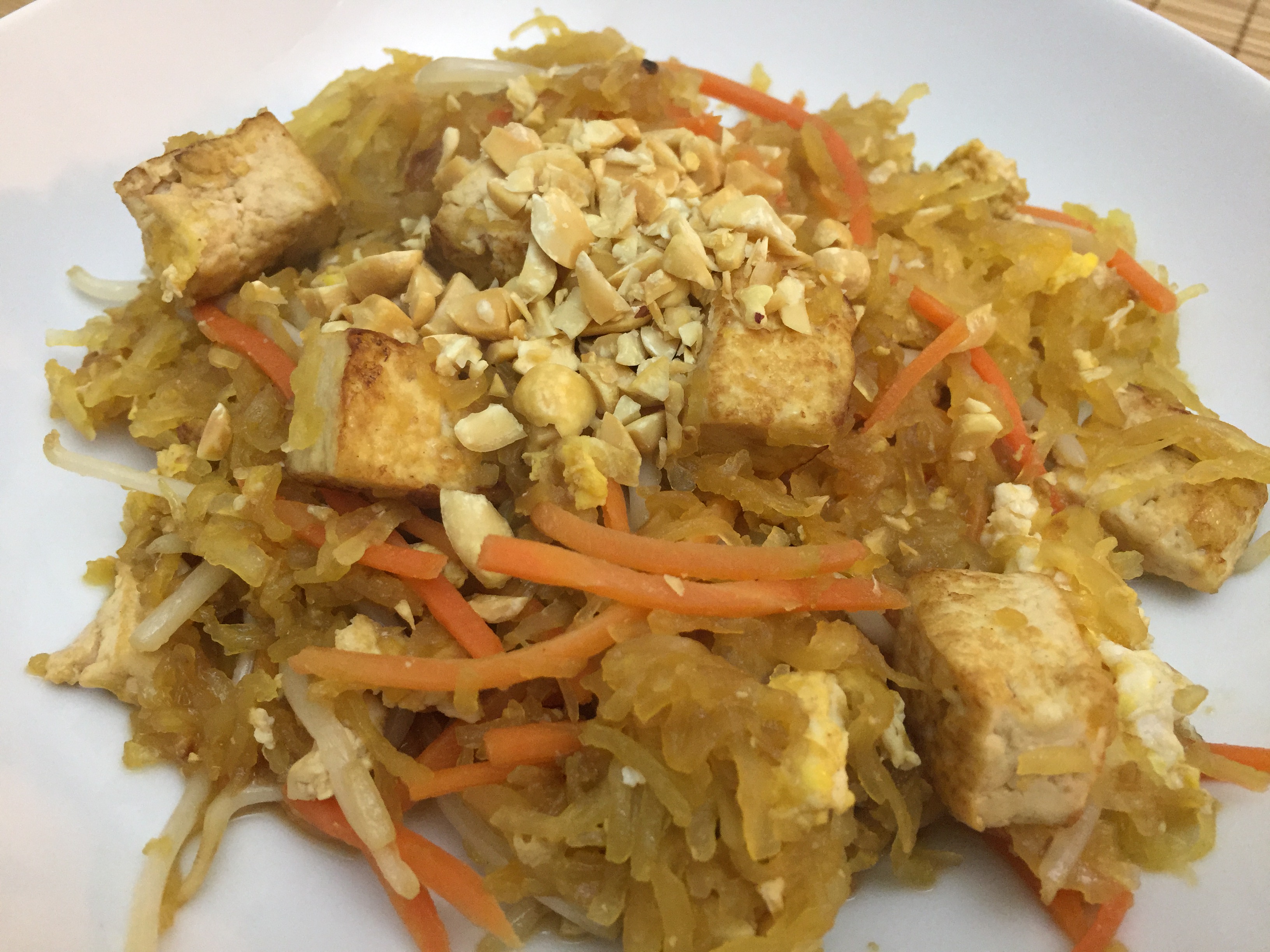 Pad Thai is a very popular Thai dish traditionally made with rice noodles. This recipe replaces the rice noodles with spaghetti squash, replacing refined grains with a nutritious vegetable. Spaghetti squash also has about 5 times less calories than most noodles or pasta! This recipe is based off of an authentic Pad Thai recipe from Basil Cookery School in Chiang Mai, Thailand.
Here are some possible substitutions. You can use more authentic ingredients if you can find them – check international markets:
Use rice noodles instead of spaghetti squash – but it won't be as healthy! Or replace 1/2 of the spaghetti squash with rice noodles
Use oyster sauce instead of tamari/soy sauce
Use 2 tablespoons of tamarind paste instead of lime juice and brown sugar. This is a very unique flavor that is critical to authentic pad Thai.
To make this dish vegetarian, substitute the fish sauce for tamari/soy sauce or another fish sauce alternative and do not substitute oyster sauce for tamari/soy sauce.
To make this dish vegan, make it vegetarian (above) and omit the eggs.
Spaghetti Squash Pad Thai

Print recipe
| | |
| --- | --- |
| Serves | 4 |
| Prep time | 10 minutes |
| Cook time | 50 minutes |
| Total time | 1 hour |
| Dietary | Diabetic |
| Meal type | Main Dish |
Adapted from an authentic Pad Thai recipe from Thailand, this recipe replaces rice noodles with spaghetti squash, which has about 5 times less calories!
Ingredients
1 spaghetti squash
14oz firm or extra firm tofu
2 tablespoons canola oil, divided
2 tablespoons shallots, minced
1 tablespoon garlic, minced
2 eggs
1 cup carrots, shredded
1 cup bean sprouts
1/4 cup reduced sodium tamari or soy sauce
2 tablespoons fish sauce
1 tablespoon lime juice
1 tablespoon brown sugar
Optional
1/4 cup green onions, sliced
crushed peanuts
lime wedges
Directions
Step 1
Preheat oven to 400°F. Cut spaghetti squash in half and scoop out the seeds with a spoon. Brush with 1 tablespoon oil and roast on a baking sheet, cut side down, for 35-45 minutes, or until tender. Set aside to cool.
Step 2
Meanwhile, drain tofu and cut in half lengthwise. Place slices between towels and place a heavy item such as a cast iron pan on top to press out excess moisture. Let sit for 10-15 minutes.
Step 3
Once spaghetti squash has cooled, use a fork to shred the flesh into strands. Set aside.
Step 4
Heat a wok or large skillet over medium heat. Add remaining oil, then shallots and garlic. Cook until fragrant, 30-60 seconds.
Step 5
Add tofu to pan and cook, stirring occasionally, until most sides are browned, about 8 minutes.
Step 6
Push tofu to one side of the pan and crack eggs into the open space. Stir until cooked, then add spaghetti squash, carrots, and bean sprouts. Stir and cook for 1-2 minutes or until sprouts start to wilt.
Step 7
Mix tamari or soy sauce, fish sauce, lime juice, and brown sugar. Add to pan and stir to coat everything. Remove from heat and add optional garnishes.