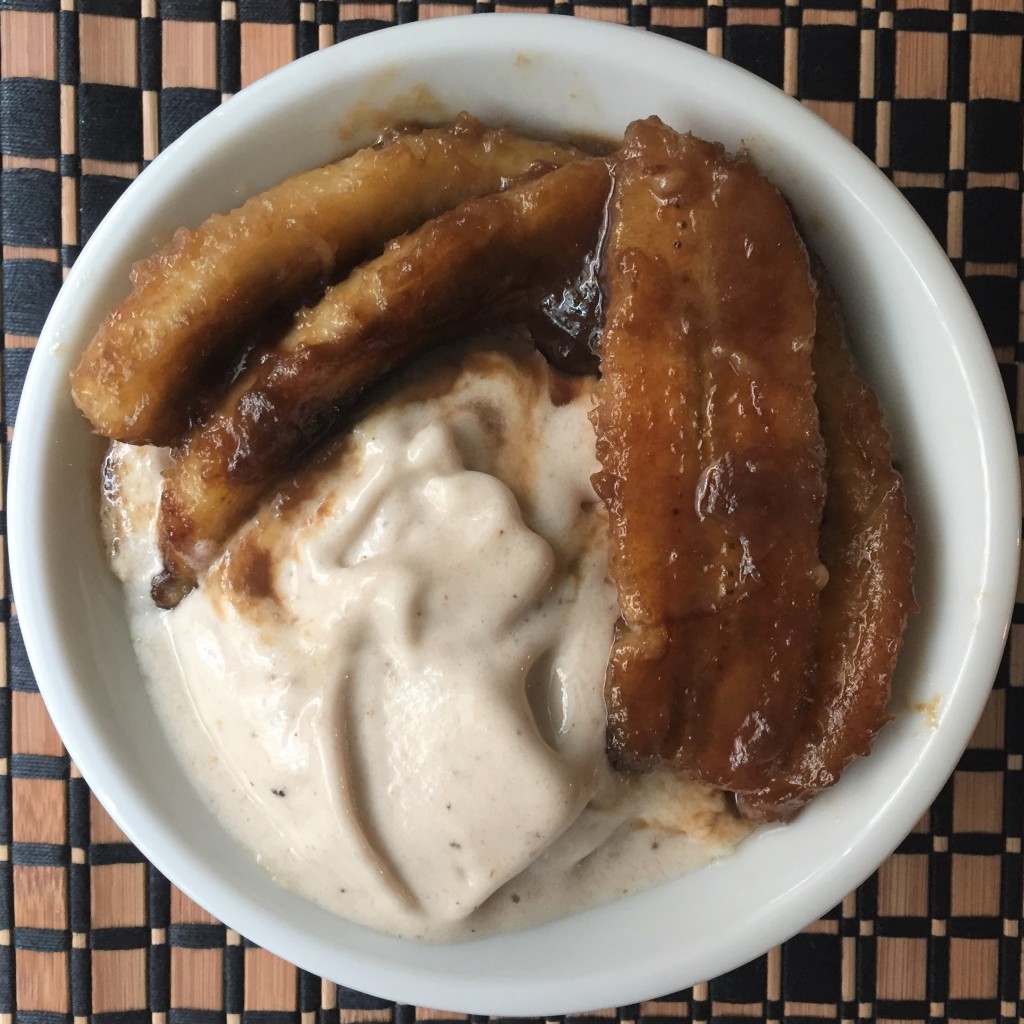 This lower-sugar and vegan version of bananas foster maintains the most satisfying part of the dessert – warm bananas over a creamy and frozen dessert. To make it more authentic, you could use more oil and sugar to make more sauce. A mixture of sugar and molasses could be used in place of brown sugar. Banana liqueur would also be a nice touch – add when you add the rum.
Most recipes call for 1/4 – 1/2 cup sugar for the bananas, not to mention the sugar in the ice cream. This recipe has only 1 tablespoon of added sugar total, or 12.5-25% of the sugar of a typical recipe (again, not including the sugar in the ice cream).
If possible, use over-ripe bananas for the "ice cream" and under-ripe bananas to cook.
Vegan Bananas Foster

Print recipe
This recipe is a lower sugar and vegan version of a delicious dessert. Frozen bananas can be kept in your freezer to make this quick recipe anytime.
Ingredients
4 bananas
1 tablespoon coconut oil (or other cooking oil)
1 tablespoon brown sugar
2 tablespoons dark rum
1 cup unsweetened soy milk (or other milk alternative)
Directions
Step 1
Slice 2 bananas and place in a single layer on a plate. Freeze overnight or until almost frozen solid.
Step 2
Slice remaining bananas in half lengthwise, then crosswise. Melt coconut oil and sugar in a small nonstick pan over medium-high heat. Add bananas. Cook, stirring occasionally, until bananas are caramelized and tender. Add rum and let simmer, or flambe by carefully lighting with a long-reach lighter or tilting towards a gas stove flame.
Step 3
In a small blender, blend frozen bananas with soy milk, starting with 1/4 cup, adding more soy milk 1 tablespoon at a time, until it is well blended and smooth.
Step 4
Divide frozen banana mixture into two bowls and top with warm banana mixture and serve.