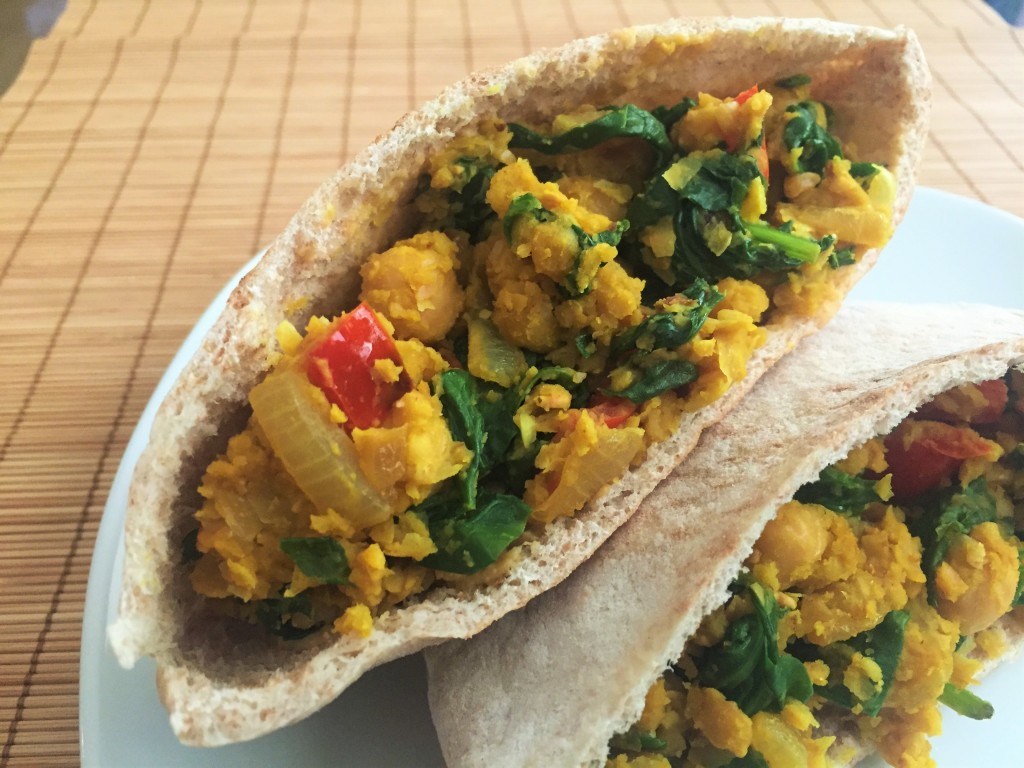 These hearty, tasty, savory pitas make a great breakfast that you can warm up while getting ready for the day. This recipe is entirely plant-based and is a flavorful alternative to an egg breakfast sandwich. Start your day with protein, whole grains, and vegetables, and be rewarded with steady energy throughout the morning. Adapted from Scrambled Chickpea and Spinach Pitas from The Kitchn.
Breakfast Chickpea Pitas

Print recipe
These satisfying breakfast pitas can be made ahead and stored in the refrigerator or freezer for a quick, healthy and portable breakfast.
Ingredients
1 yellow onion (diced)
2 tablespoons cooking oil (such as olive, grapeseed, coconut, or canola)
1 red bell pepper (diced)
2 cloves garlic (minced)
3 cans chickpeas (rinsed and drained)
1 teaspoon cumin
1 teaspoon turmeric
1 teaspoon salt or to taste
4 cups baby spinach (roughly chopped)
3 whole wheat pitas (halved)
1/2 cup salsa or hummus (optional)
Directions
Step 1
Place half of the chickpeas into a food processor and pulse until mashed but not smoothly pureed. Alternatively, mash in a medium bowl with a fork. Set aside.
Step 2
Heat oil in a large skillet over medium-high heat. Add onions and cook until lightly browned, stirring occasionally, about 4 minutes. Add garlic and cook until fragrant, about 30 seconds. Add bell peppers and cook until tender, about 4 minutes.
Step 3
Add whole and mashed chickpeas, cumin, turmeric, and salt. Cook until chickpeas soften, stirring occasionally, about 4 minutes. Add spinach and cook until wilted, about 1-2 minutes.
Step 4
If serving immediately, spread 1-2 tablespoons of hummus or salsa if using inside pitas, then fill each pita with chickpea filling.
Step 5
If freezing, allow chickpea mixture to cool, then follow step 4. Wrap each pita in foil and place them in an airtight bag or container and freeze. To serve, heat in oven at 350°F for about 20 minutes if thawed or 30 minutes if frozen, or until warmed through. Alternatively, remove the foil and microwave until warmed throughout.