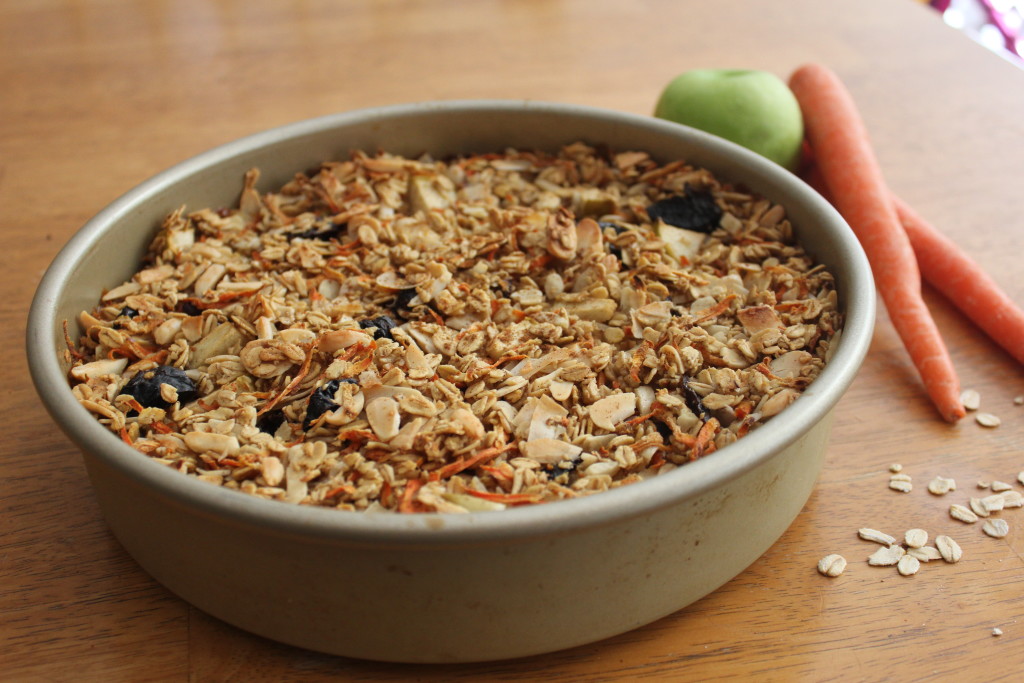 If you're looking for a twist on boring old oatmeal, give this recipe a try. You can make it on the weekend and reheat individual portions for breakfast throughout the week. It is made with whole grains, fruit, vegetables, and healthy fats, and is completely plant-based and low in added sugar, yet tastes like carrot cake! It's crispy on the top, tender on the inside, and contains a variety of other textures from the crunchy nuts and chewy raisins.
Each serving has only 1 1/2 teaspoons added sugar, less than most flavored oatmeal packets. The latest Dietary Guidelines for Americans recommends no more than 10% of calories from added sugar, which is about 12 teaspoons on a 2,000 calorie diet. However, the American Heart Association recommends limiting added sugar to 6 teaspoons a day for women and 9 teaspoons a day for men.
Recipe adapted from dietitian and cookbook author Ellie Krieger's recipe.
Carrot Cake Baked Oatmeal

Print recipe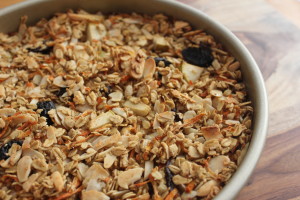 This healthy and flavorful breakfast is made with whole grains, fruit, vegetables and healthy fats, and is free of animal products.
Ingredients
1 tablespoon flax meal
2 cups rolled oats (not quick cooking)
1 cup almonds, walnuts, or pecans (chopped)
1/4 cup unsweetened shredded coconut
1 teaspoon ground cinnamon
1 teaspoon baking powder
1/2 teaspoon salt
1 cup shredded carrots
1 cup green apple (chopped)
1/4 cup raisins or other dried fruit
2 cups almond milk (or other non-dairy milk)
1/4 cup maple syrup
2 tablespoons oil (canola, melted coconut, or other oil of choice)
1 1/2 teaspoon vanilla extract
Directions
Step 1
Preheat oven to 375°F. In a small bowl, whisk together flax meal and 3 tablespoons water. Let sit for 5 minutes. Grease a cake pan, pie plate, or square baking dish.
Step 2
In a large bowl, combine oats, nuts, coconut, cinnamon, baking powder, and salt. Stir to combine. Add carrots, apple, and raisins and stir.
Step 3
In a medium bowl, whisk together almond milk, maple syrup, oil, and vanilla. Stir the flax mixture, then add to the milk mixture and whisk. Pour milk mixture over oat mixture and stir well.
Step 4
Pour oat mixture into prepared baking dish and bake for about 40 minutes, until golden brown on top.