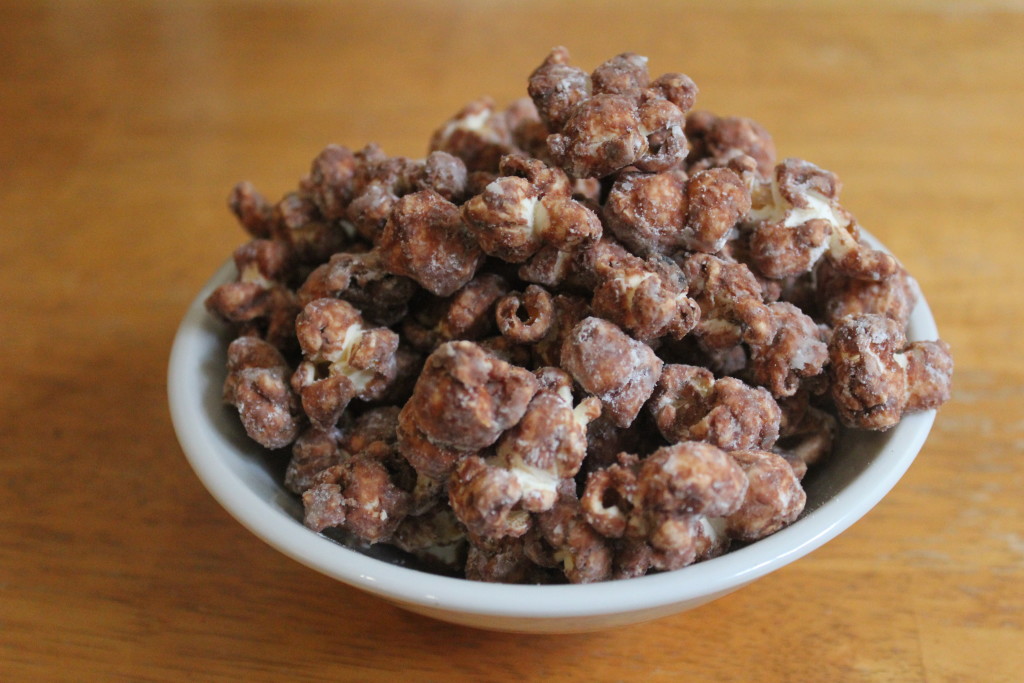 That's not a typo – poppy chow is a lighter twist on an old favorite recipe called "puppy chow," or sometimes "muddy buddies." The cereal is replaced with popcorn, which is lighter in calories and carbohydrates by volume. A few other little tweaks have been made to this recipe to make ita little less unhealthy without sacrificing taste. This makes a great edible homemade holiday gift!
You can also try making this recipe with other substitutes for cereal – sliced almonds, whole almonds, coconut flakes, or pumpkin seeds! To make it vegan and dairy free, look for vegan chocolate chips.
Poppy Chow

Print recipe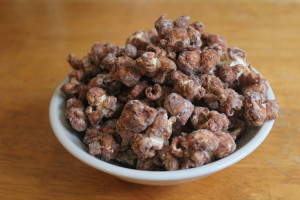 Poppy chow is a lighter twist on "puppy chow," traditionally made with Chex cereal.
Ingredients
7 tablespoons virgin coconut oil (divided)
1/2 cup popcorn kernels
1 cup dark chocolate chips
1/2 cup natural peanut butter
1 teaspoon vanilla extract
1 1/2 cup powdered sugar
Directions
Step 1
Make the popcorn: In a large stock pot, melt 3 tablespoons oil over medium high heat, add 3-4 popcorn kernels, and cover. When the kernels pop, add the remaining kernels and cover. Remove from heat for 30 seconds, then return to heat. Once the popping starts, continuously shake the pot gently back and forth until 2-3 seconds pass between pops. Remove from heat.
Step 2
Melt the chocolate chips, peanut butter, remaining coconut oil, and vanilla extract in the microwave or in a double boiler. Discard all unpopped kernels and toss with melted chocolate mixture in a large bowl. Toss until all popcorn is coated. Let cool until chocolate mixture is tacky but not hot, then toss with powdered sugar, 1/2 cup at a time, until popcorn is coated. Let cool, then store in an airtight container.
"Puppy Chow" Flavored Pumpkin Seeds