Shakshuka (also spelled "shakshouka" and "chakchouk") is a flavorful Middle Eastern and North African dish made of tomatoes, egg, and spices. It is a healthy combination of vegetables (tomato and onion), protein (eggs) and healthy fats (olive oil). Made in one pan, it is as easy to make as it is to clean up!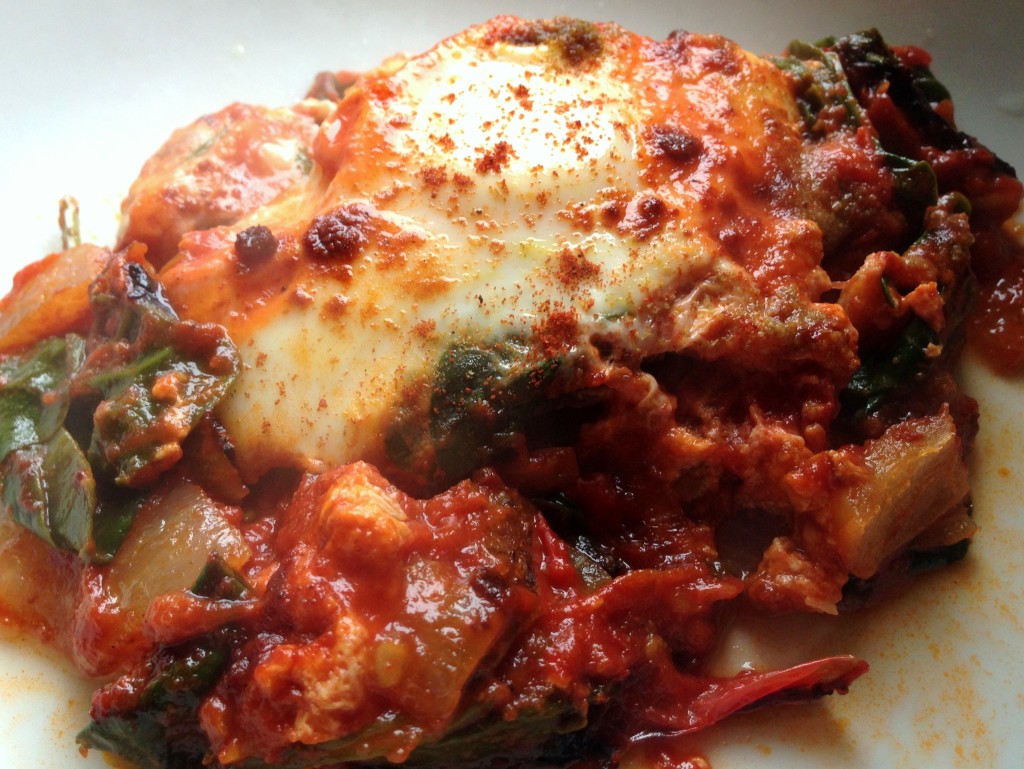 Shakshuka

Print recipe
| | |
| --- | --- |
| Serves | 3 |
| Prep time | 5 minutes |
| Cook time | 22 minutes |
| Total time | 27 minutes |
This incredibly flavorful recipe is a great way to have vegetables for breakfast. Using fresh tomatoes instead of canned avoids the potentially dangerous combination of BPA and the acidity of tomatoes, which may increase leaching of BPA into food. Tomato paste is available in glass jars and tetra paks.
Ingredients
2 tablespoons olive oil
1 medium yellow onion (diced)
2 cloves garlic (minced)
3 cups ripe tomato (diced)
1/4 cup tomato paste
1 teaspoon cumin
1 teaspoon paprika
1 teaspoon salt
6 large eggs
Optional
2 cups fresh baby spinach
Directions
Step 1
Heat oil in a large skillet over medium-high heat. Add onion and cook until onions begin to brown, 5-7 minutes, stirring occasionally. Add garlic and cook for 30-60 seconds or until fragrant. Add tomatoes, tomato paste, cumin, paprika, and salt and cook for 2 minutes, stirring occasionally. Add spinach if using and cook until it begins to wilt, 1-2 minutes.
Step 2
Crack eggs on top of tomato mixture, cover and simmer until eggs are set, about 7-10 minutes.