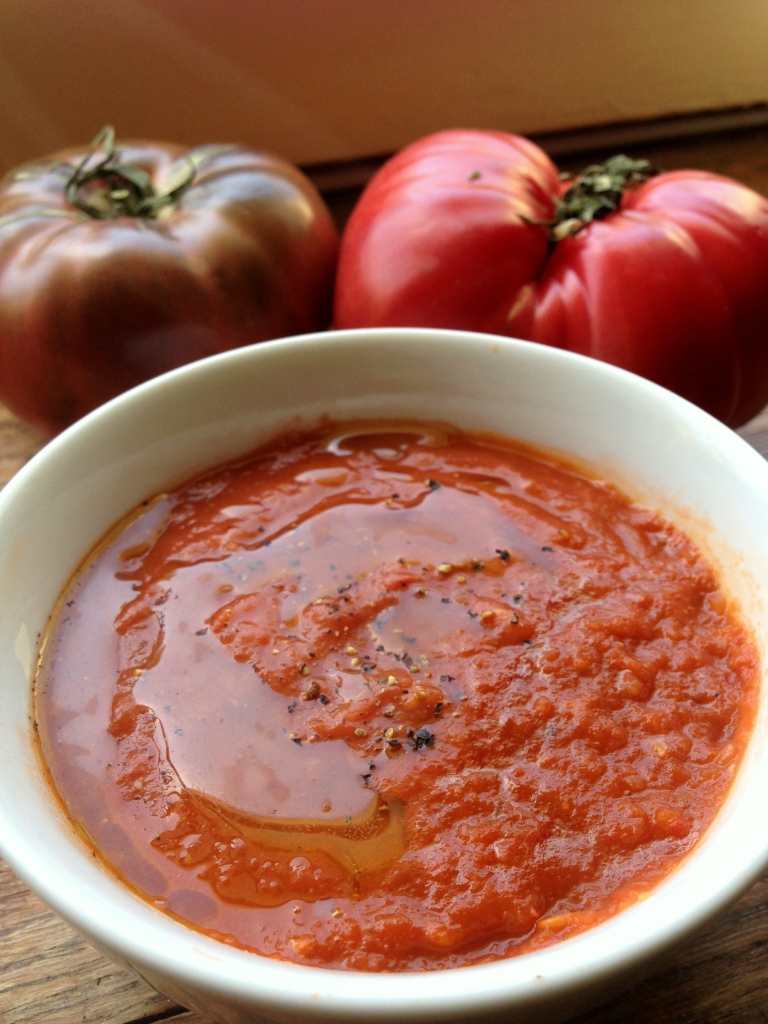 This recipe is very simple with only 5 required ingredients. Avoid the guilt with this soup because it is almost nothing but vegetables with a little healthy fat, yet is full of flavor and much more appetizing than canned tomato soup. In these pictures, I used heirloom tomatoes. Use any tomatoes you'd like, but make sure they are ripe. That means purchasing tomatoes during the summer, when they are actually in season. If possible, buy them from your local farmers market. If you're looking to start growing your own vegetables, try growing tomatoes – they are easy and so much tastier when you grow them yourself!
Roasted Tomato Soup

Print recipe
| | |
| --- | --- |
| Serves | 4 - 6 |
| Prep time | 10 minutes |
| Cook time | 45 minutes |
| Total time | 55 minutes |
This simple soup recipe is vegan and contains only 5 ingredients.
Ingredients
3lb tomatoes (halved)
1 medium onion (quartered)
4 cloves garlic
2 tablespoons olive oil (plus a little to drizzle, if desired)
1/2 teaspoon salt
Optional
Directions
Step 1
Preheat oven to 400˚F. In a large bowl, toss tomatoes, onion, and garlic with olive oil. Spread in an even layer on a baking sheet.
Step 2
Place in the oven and bake for 30 minutes, turning the vegetables halfway through. Let cool.
Step 3
Place roasted vegetables in blender or food processor and blend in small batches as needed. Add salt. Blend until completely smooth, adding a little water or broth to thin if necessary. Warm in a saucepan over medium heat until heated through and serve. Garnish with fresh basil and a drizzle of olive oil (optional).