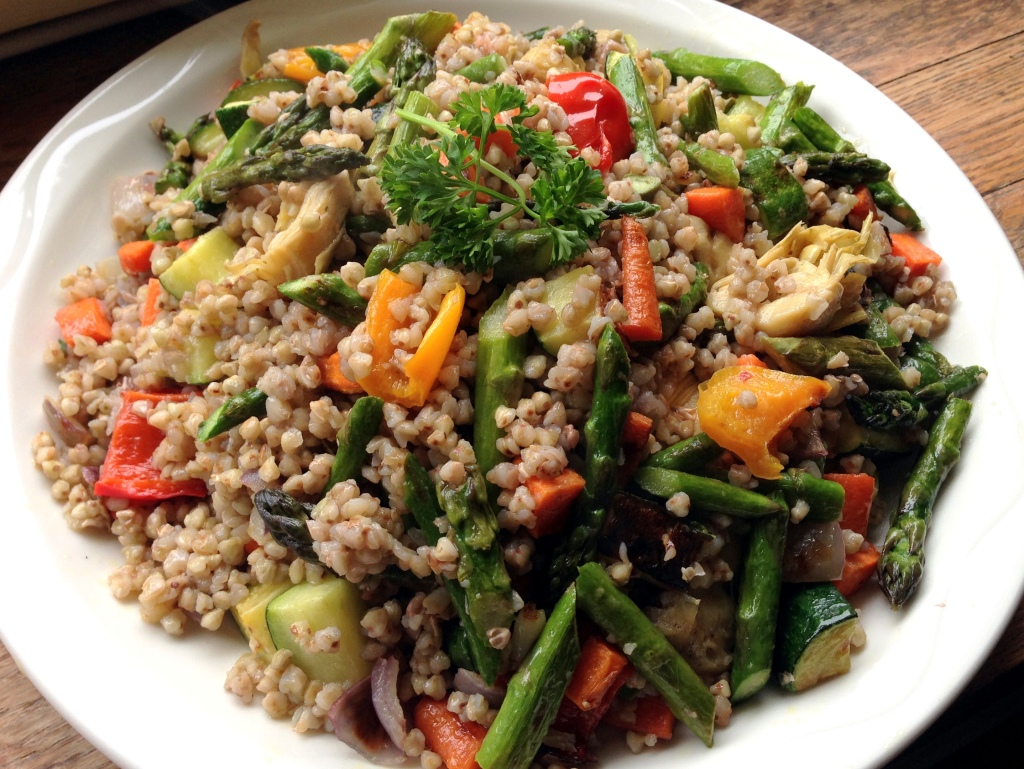 Whole grains don't have to be boring! Buckwheat, which happens to be gluten-free, despite the word "wheat" in its name, is accompanied by colorful veggies and simple yet flavorful dressing. This salad is great side dish for a potluck, picnic, lunch, or dinner! Or add some protein such as chicken or beans and make it your entree.
Springtime Buckwheat Salad

Print recipe
| | |
| --- | --- |
| Serves | 8-12 |
| Prep time | 15 minutes |
| Cook time | 30 minutes |
| Total time | 45 minutes |
This colorful salad can be made with either roasted or grilled vegetables, which are combined with a tender whole grain and simple lemony dressing for a fresh-tasting and very satisfying salad!
Ingredients
1 cup buckwheat groats (toasted for 4-5 minutes in a dry pan, or buy pre-toasted)
2 cups water
1 green zucchini, organic preferred (chopped)
2 carrots (diced)
1/2 red onion (diced)
1 red bell pepper, organic preferred (chopped)
1 bunch asparagus (cut into 1-inch pieces)
1/2 cup artichoke hearts (quartered, thawed from frozen or marinated in jar and drained)
6 tablespoons extra virgin olive oil (divided)
2 tablespoons lemon juice (about 1 medium lemon)
1 teaspoon salt
1 tablespoon fresh parsley (minced)
Directions
Step 1
Preheat oven to 425˚F. Combine buckwheat and 2 cups water in a saucepan and bring to a boil. Reduce heat and cook on low 10-12 minutes, then let stand for 5 minutes. Let cool. Grains should be tender but not mushy. Toasted buckwheat or kasha may take less time to cook.
Step 2
Toss vegetables with 1/4 cup (4 Tbsp) olive oil and spread into a single layer on 2 baking sheets. Do not crowd the vegetables on the pan. Roast for 10-12 minutes, stirring once or twice, until vegetables are light golden brown on one or more sides. Let cool.
Step 3
In a small bowl, combine 2 Tbsp olive oil, lemon juice, and 1 tsp salt. In a large bowl, combine cooked buckwheat, roasted vegetables, and olive oil mixture. Toss and garnish with parsley. Serve warm or refrigerate and serve cold.