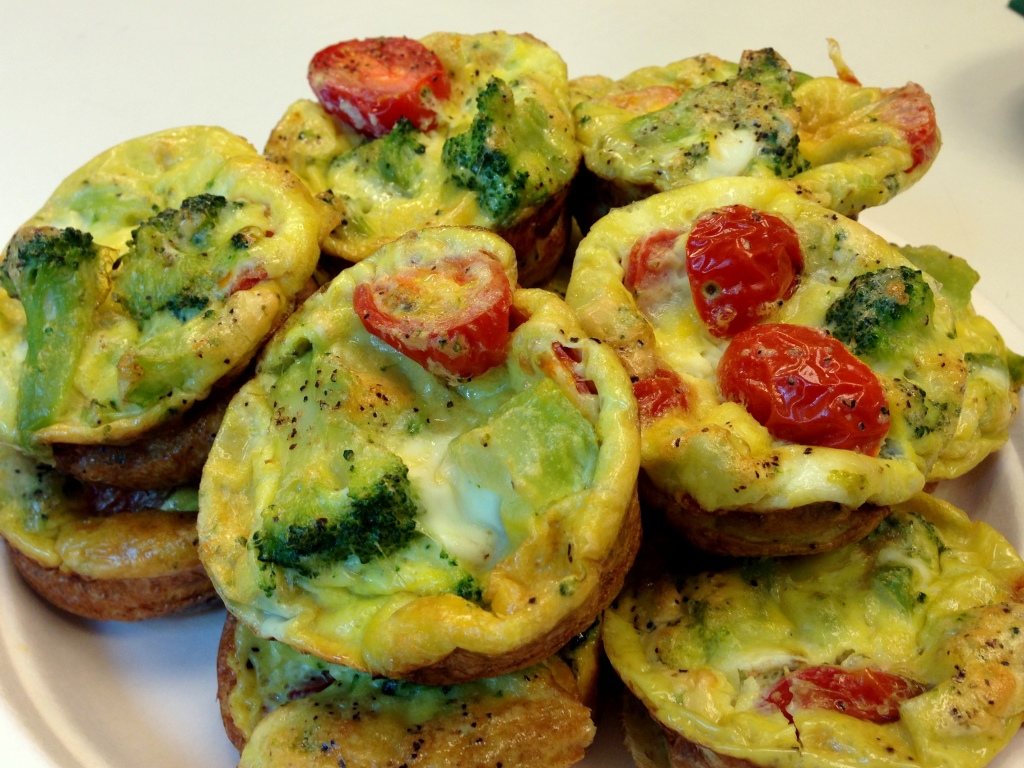 I have suggested this recipe to dozens of people, and many of them make these quick breakfast treats regularly! You can use whatever fillings you'd like to keep it interesting. For inspiration, think about what fillings you would enjoy in an omelet. For the healthiest egg muffins, emphasize the veggies, but avoid  processed meats (bacon, sausage, ham, etc.) and keep cheese to a minimum, if you use it at all.
Veggie filling ideas:
Mushrooms (sauteed) + spinach/chard (sauteed)
Broccoli (lightly cooked, or thawed from frozen) + raw tomato (halved cherry/grape tomatoes)
Butternut squash (cooked) + sage
Bell peppers (raw or cooked) + onion (raw or cooked)
Leftover grilled vegetables, chopped
Pizza  = marinara/pizza sauce + favorite pizza toppings (mushrooms, spinach, bell peppers)
Egg Muffins

Print recipe
These mini frittatas are a favorite recipe of many. Use your favorite veggies and fillings!
Ingredients
10 Large eggs
2 cups vegetables of choice
1/2 teaspoon Salt
Oil for greasing pan
Directions
Step 1
Preheat oven to 350 degrees F. Grease a muffin tin with oil, such as olive oil or coconut oil.
Step 2
Whisk eggs. Add vegetables of choice and salt. Feel free to add other fillings, herbs, or spices. Pour egg mixture into muffin tin until cups are 2/3 full.
Step 3
Place muffin tin in oven and bake 20-25 minutes, until golden brown on top. Remove from the oven, let cool, and serve or store in the refrigerator up to 4-5 days.