d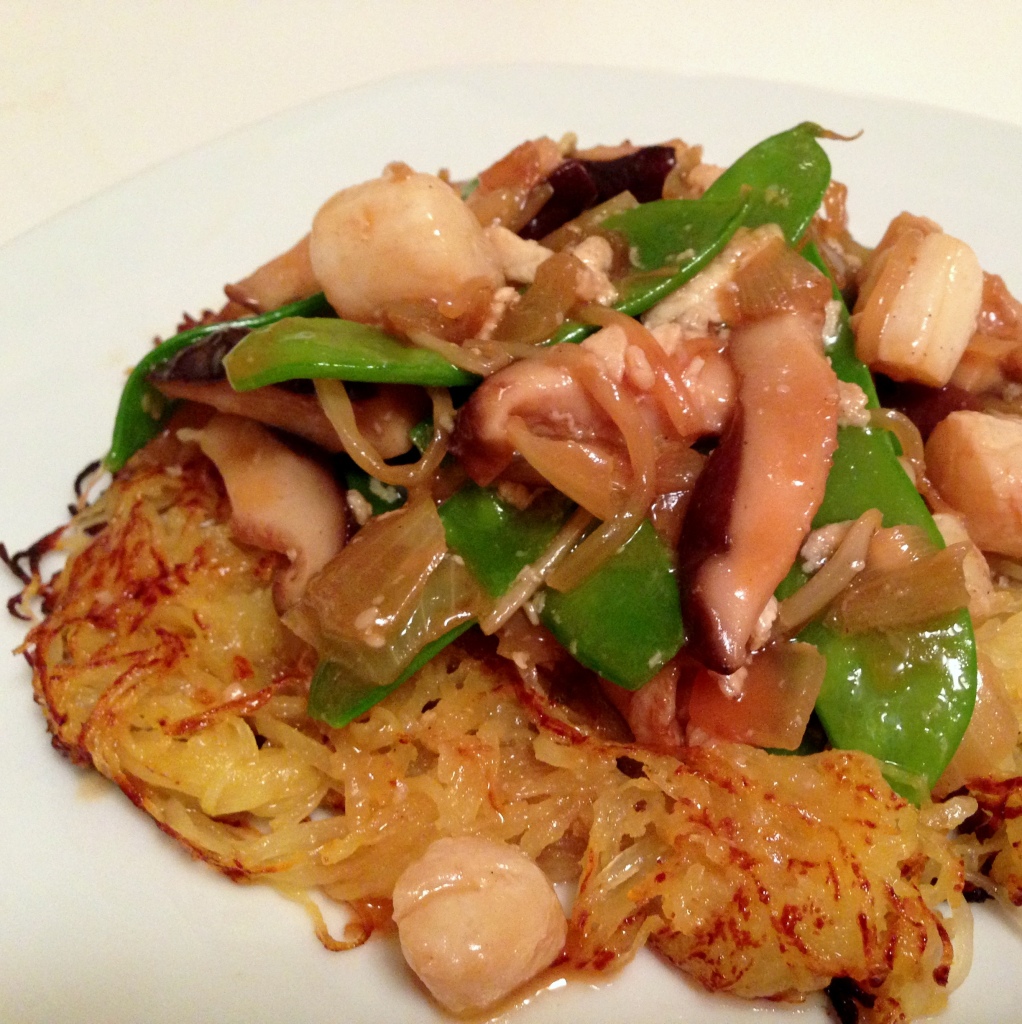 Pan-Fried "Noodles" with Vegetable Stir Fry

Print recipe
This recipe replaces unhealthy fried refined noodles with light pan-fried spaghetti squash. It's delicious!
Ingredients
1 Medium spaghetti squash
olive oil
1lb chicken, fish, or scallops (bite-sized pieces)
1 egg white
2 teaspoons corn starch
1/2 teaspoon salt
1 Medium yellow onion
1/2lb snow peas
1/2lb shiitake mushrooms
1/4lb bean sprouts
1 tablespoon Shaoxing rice wine (or substitute dry sherry)
2 tablespoons low-sodium tamari
1/4 teaspoon white pepper
peanut oil
Directions
Step 1
Preheat oven to 400 degrees F. Cut the spaghetti squash in half and remove the seeds. Brush with olive oil, then place face-down on a baking sheet. Bake for 30-40 minutes or until tender. Let cool.
Step 2
Meanwhile, whisk the egg white in a medium bowl, then add corn starch, salt, and protein of choice (chicken, fish, or scallops) and combine. Cover and refrigerate for about 20 minutes.
Step 3
Combine the Shaoxing rice wine, tamari, and black pepper, then set aside.
Step 4
Heat 2 tablespoons peanut oil in wok or large pan. Add the chicken, fish or scallops and stir fry for a few minutes until mostly cooked. Set aside in a dish, leaving excess oil in pan or letting oil pool in the dish and adding any remaining oil back to the wok.
Step 5
Add 1-2 tablespoons peanut oil to the pan, less if some oil remains from the previous step. Add the onion and cook for a few minutes, stirring occasionally, until it starts to become translucent. Add the mushrooms and cook until they are mostly soft, stirring occasionally. Add the snow peas and cook another 2-3 minutes, until they are bright green and no longer dull. Add the bean sprouts and cook 1 more minute.
Step 6
Add the chicken, fish, or scallops back to the wok, then add the sauce and combine. Set aside in another dish, then wipe out the pan.
Step 7
Once the spaghetti squash has cooled, use a fork or spoon to scoop out the flesh, which will resemble noodles.
Step 8
Heat the wok over medium heat, then add 2 tablespoons peanut oil. Add enough spaghetti squash to form a solid layer about 1/2 inch thick on the bottom of the pan. Once it starts to become golden brown on the bottom, flip the spaghetti squash and cook until the other side starts to turn golden brown. Repeat with remaining squash if necessary. Place the squash on a serving plate.
Step 9
Top the squash with the vegetable stir fry and serve.