This appetizer/side dish is extremely easy and will please a large crowd. You can serve it as a salad, or as a dip with tortilla chips (preferably baked chips). You can make this recipe from scratch using dried beans (cooked and cooled) and homemade dressing using the ingredients below (it's really not that hard), or make it super easy by using canned beans and store-bought Italian dressing, which isn't quite as healthy. BPA is a potential concern in canned foods, and store-bought dressings often have artificial ingredients and added sugar.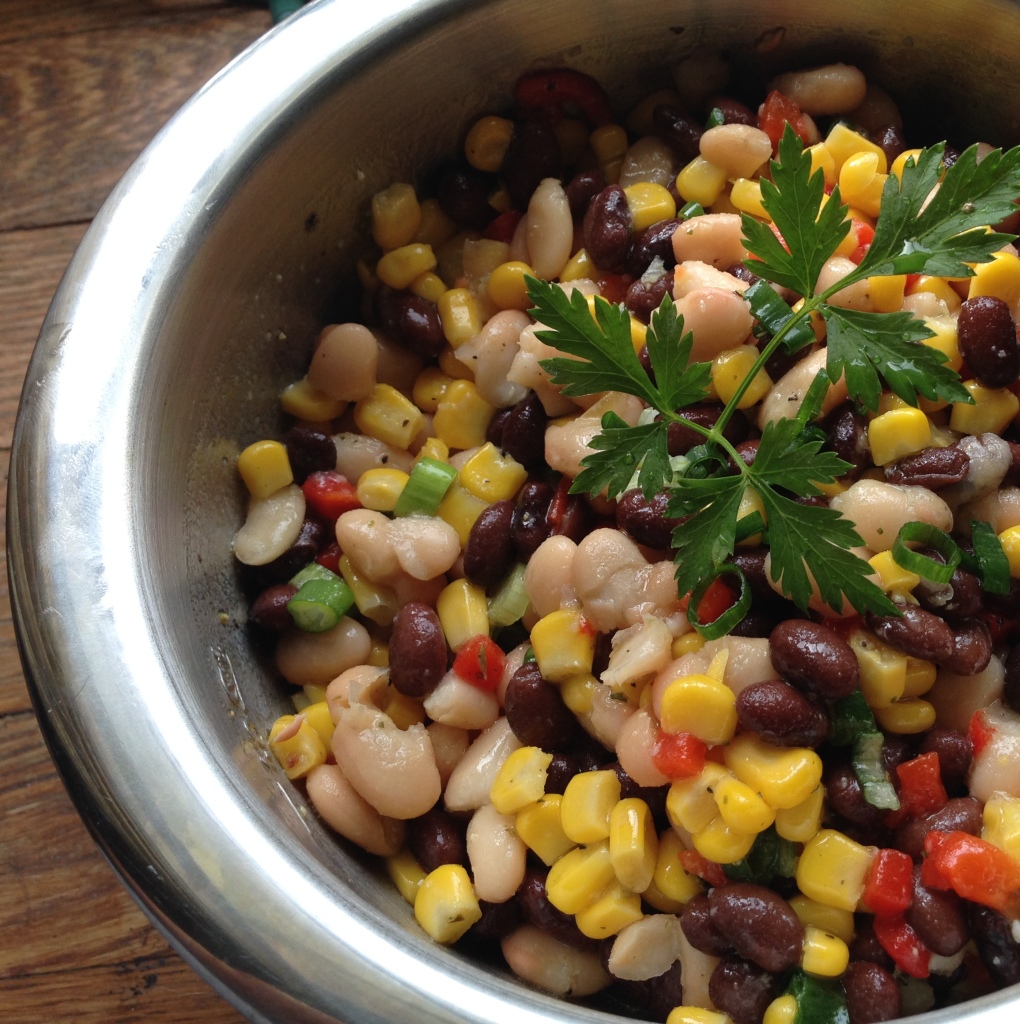 Bean and Corn Dip

Print recipe
| | |
| --- | --- |
| Serves | 12 |
| Prep time | 10 minutes |
This super easy bean and corn dip makes an easy appetizer or salad for a party.
Ingredients
2 cups white beans, cooked (or 1 15-oz can)
2 cups black beans, cooked (or 1 15-oz can)
2 cups white or yellow corn, fresh, cooked and cooled; or frozen and thawed (or 1 15-oz can)
3 tablespoons pimentos (about 2 ounces)
1 stalk green onion (sliced)
1/2 cup extra virgin olive oil
1/4 cup apple cider vinegar
1 teaspoon minced garlic
1 teaspoon salt
1/2 teaspoon dried oregano
1/4 teaspoon black pepper
Directions
Step 1
Rinse and drain the beans and corn. Add to a medium bowl, then add green onions and pimentos.
Step 2
To make the dressing, combine remaining ingredients in a small bowl and stir to combine, or place in a jar and shake.
Step 3
Pour the dressing over the bean mixture, using only as much as necessary. You may not need the whole batch of dressing. You can also substitute store-bought Italian dressing, although it is not as healthy. For best flavor, refrigerate for at least 1 hour to allow flavors to meld. Serve as a salad or as a dip along with baked chips.