These lower-sugar cookies contain 3 types of sesame – white sesame seeds, black sesame seeds, and tahini, or ground sesame seeds. They have a strong sesame flavor and are slightly bitter, making them a delightfully unusual cookie! You can use only white sesame seeds if you can't find black sesame seeds, which are often found in the international section of the grocery store.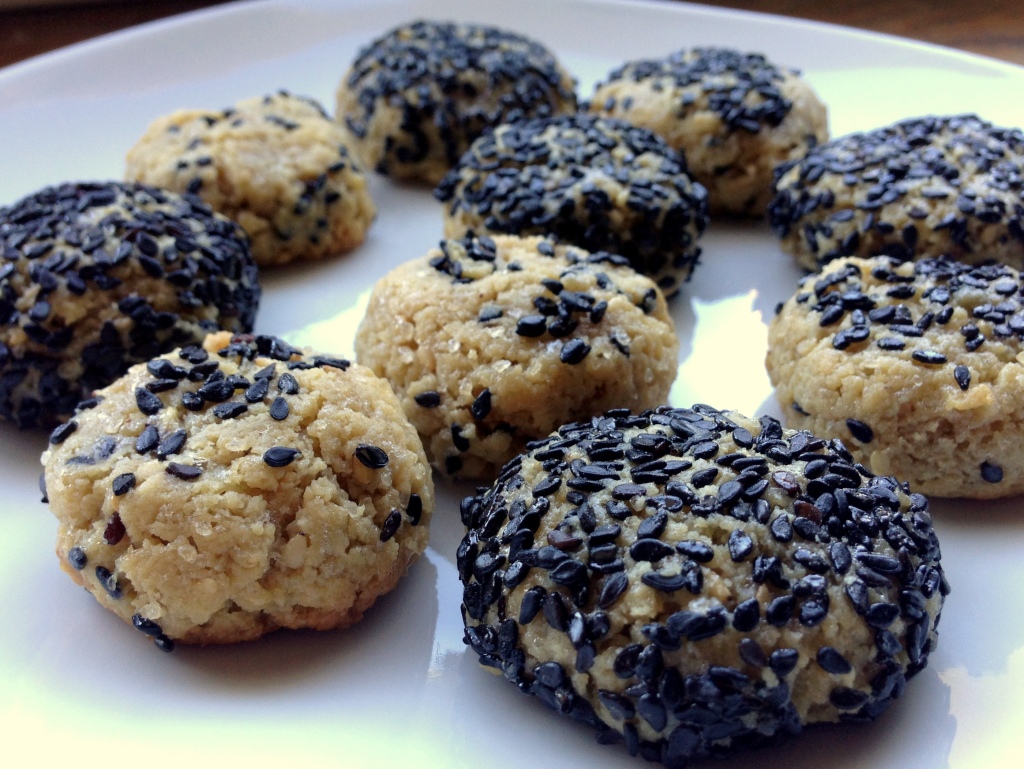 Triple Sesame Cookies

Print recipe
These unique lower-sugar cookies use 3 types of sesame and are a delightfully unusual treat! These easy cookies are flourless, gluten-free, dairy-free, and lower-carb.
Ingredients
1 cup tahini
1/3 cup sugar
1 egg (whisked)
2 tablespoons white sesame seeds
30 drops liquid stevia
1/2 teaspoon vanilla extract
1/4 cup black sesame seeds
Directions
Step 1
Preheat oven to 350 degrees. Line a baking sheet with parchment paper.
Step 2
Combine tahini, sugar, egg, vanilla, white sesame seeds, and stevia. Stir well to combine.
Step 3
Place the black sesame seeds in a shallow dish. Scoop about 1/2-1 tablespoon of dough and roll into a ball, then roll in the black sesame seeds, or dip one side of the ball into the seeds. Place onto the cookie sheet and press down to flatten slightly. These cookies won't spread or rise, so they will maintain whatever shape you create now.
Step 4
Bake for 9-11 minutes, or until bottom edges are light golden brown. Remove from oven, and allow to cool for 1-2 minutes before transferring to a cooling rack.