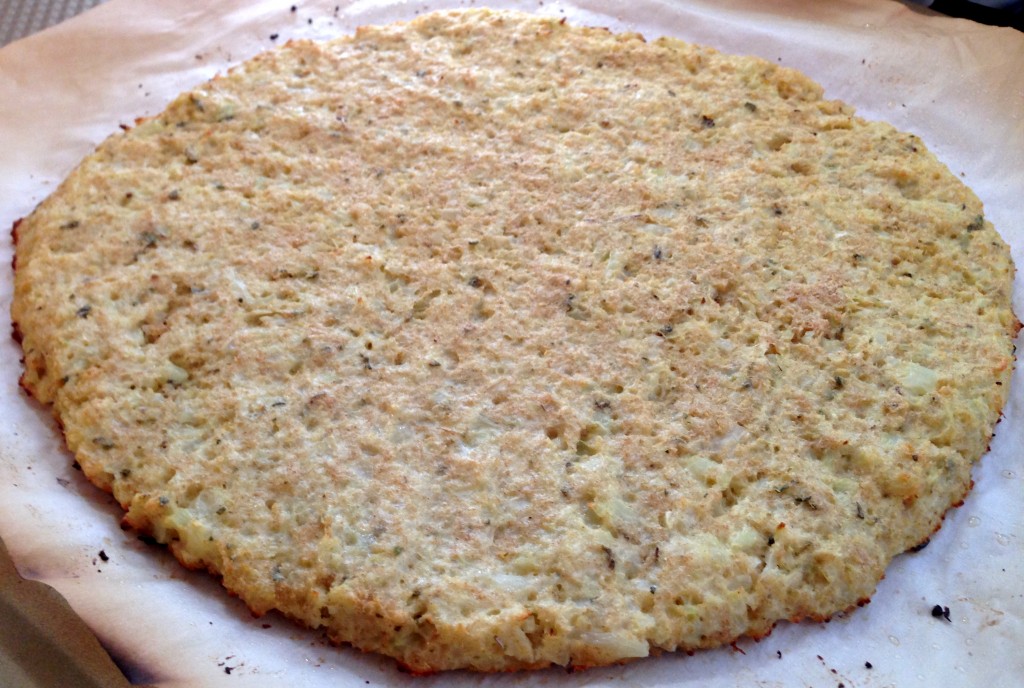 This recipe for Cauliflower Pizza Crust is free of unrefined carbs and dairy. If baked to a nice golden brown, it holds together like conventional pizza crust. Add whatever toppings you'd like. I used buffalo wing sauce instead of pizza and topped it with buffalo chicken and sauteed onions and bell peppers. Use almond meal instead of whole wheat flour to make this recipe wheat-free and gluten-free.
Cauliflower Pizza Crust

Print recipe
Ingredients
1 medium head cauliflower (should yield about 3 cups once processed)
2 tablespoons almond meal or whole wheat flour
1 large egg (beaten)
1 tablespoon extra virgin olive oil
1/4 teaspoon salt
1/2 teaspoon garlic powder
1/2 teaspoon dried oregano
prepared toppings of choice
Directions
Step 1
Preheat oven to 450 degrees F. Place a baking sheet or pizza stone in the oven. Brush a sheet of parchment paper with olive oil and place on top of a cutting board.
Step 2
Cut the cauliflower into florets, then pulse in a food processor until it is ground.
Step 3
Cook ground cauliflower by steaming or microwaving in a small amount of water and covered for about 4 minutes. Drain cooked cauliflower and allow to cool. When cauliflower is cool, place onto a kitchen towel. Wring out as much water as possible.
Step 4
In a large bowl, combine cauliflower with remaining ingredients and mix well. Shape into a pizza crust on the oiled parchment paper. Slide the parchment paper and crust onto the preheated cookie sheet or pizza stone in the oven. Bake 12-16 minutes, or until very golden brown on top.
Step 5
Spread pizza sauce over the crust, or try an alternative sauce such as pesto, barbeque sauce, or buffalo wing sauce. Top with desired toppings and serve, or if using cheese, place under the broiler until cheese is melted.