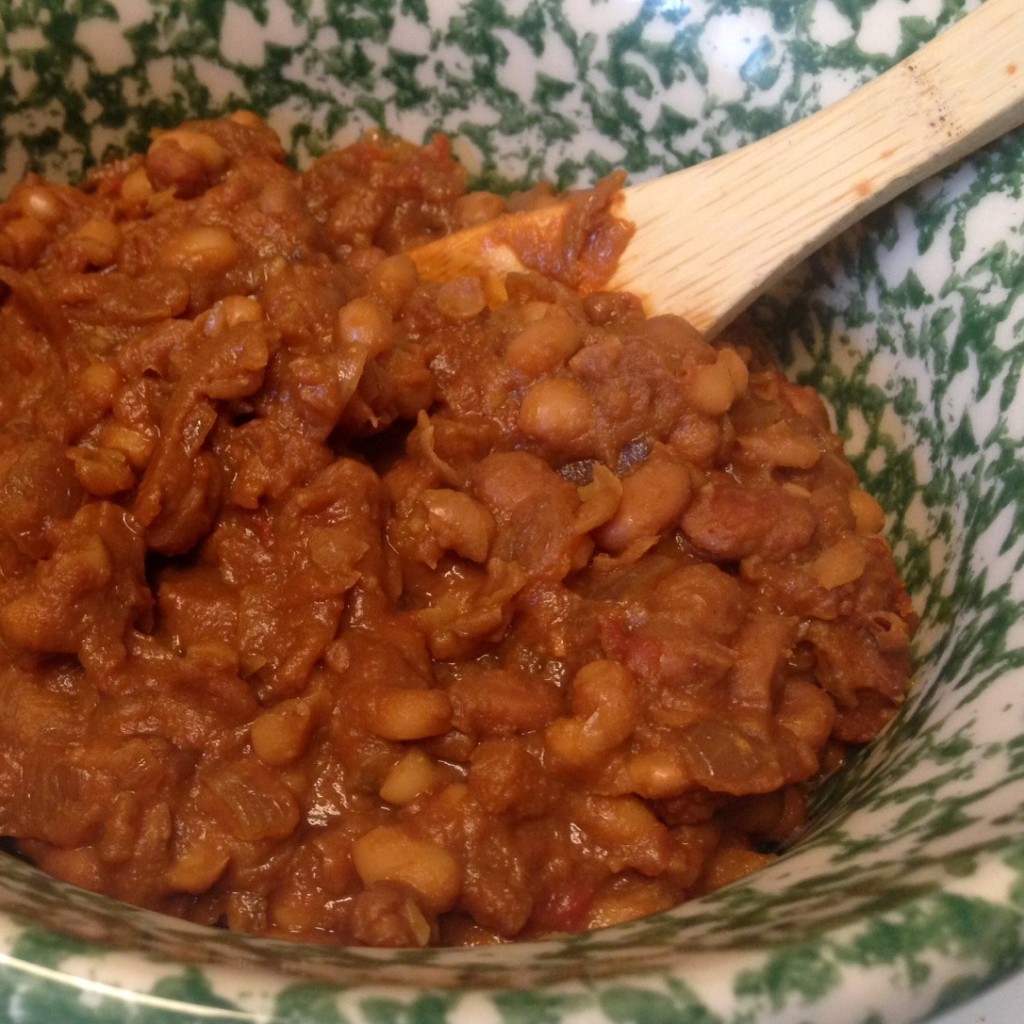 Baked beans are typically full of sugar. Most brands of baked beans contain about 12g (or 1 tablespoon) of sugar per 1/2 cup serving. In addition, most recipes call for bacon, which is a processed meat (unless you buy uncured bacon). This recipe has neither, making it low in added sugar and free of meat of any kind. The small amount added sugar is in the form of 1 tablespoon of molasses. Molasses is still sugar, and although it contains healthy minerals, let's be real, you're not going to get a significant amount of from 1 tablespoon divided by 6-8 servings. With all of the other flavor in this recipe, you won't miss all the sugar and bacon.
Ingredients 
1 tablespoon cooking oil (coconut oil, olive oil, etc)
1 cup yellow onion, diced (about 1 small-medium onion)
1/2 teaspoon garlic powder or 1 clove garlic, minced
2 15-oz cans beans (white or pinto, or 1 of each), rinsed and drained
1 can diced tomatoes, low sodium or no salt added preferred
1 teaspoon paprika
1/2 teaspoon dry mustard or 1 teaspoon prepared mustard
1 tablespoon molasses
1 tablespoon low-sodium tamari or soy sauce
1 tablespoon apple cider vinegar
1/2 cup vegetable broth, or more as needed
Directions
Preheat a large saucepan over medium-high heat. Add oil, then onions and cook until soft. Add garlic and cook for 30 seconds. Add remaining ingredients and bring to a simmer. Simmer on low heat for 30-45 minutes. Add more vegetable broth as needed to keep the beans from drying out, until you reach the desired consistency.