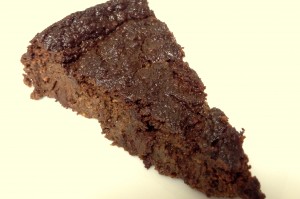 You were intrigued enough to check out this recipe, so don't dismiss it just yet! Yes, these are brownies made with cauliflower, but they do not taste like vegetables. These will probably be some of the most moist and gooey chocolate brownies you'll ever try. I have gotten tons of great feedback on this recipe and it's been a hit at parties. Just give it a try!
This recipe is based off Chocolate Covered Katie's "Chocolate Cake… with a crazy ingredient!": http://chocolatecoveredkatie.com/2012/06/18/cauliflower-chocolate-cake/
Ingredients
4 cups cauliflower florets
1 1/2 cups almond meal
2 teaspoons baking powder (aluminum-free preferred)
1 teaspoon baking soda
1/2 teaspoon salt (Himalayan or sea salt preferred)
2/3 cup cocoa powder
1/4 cup flax meal
1/2 cup sweetener or equivalent (such as coconut sugar, erythritol, etc.)
3/4 mini chocolate chips (dark chocolate if possible, or 3/4 cup chopped dark chocolate bar)
2 tablespoons vanilla extract
20 drops liquid stevia or more, to taste
1 cup unsweetened almond milk (or other milk of choice)
Directions
Preheat oven to 350 degrees. Grease a large cake or pie pan with virgin coconut oil. You could probably bake these in a 13×9 pan or cut the recipe in half and bake it in an 8×8 pan, but I have not tried it… yet. Steam cauliflower until it is almost fork tender, but not fully cooked. You could also use frozen cauliflower, thawed. In a food processor, blend almond milk, vanilla, stevia, and add cauliflower, about 1 cup at a time. Blend until very smooth and completely combined. In a medium bowl, combine dry ingredients – almond meal, baking soda, baking powder, salt, cocoa powder, flax meal, sweetener, and chocolate chips. Combine all ingredients and pour into greased pan. Bake for 50-60 minutes, or until the brownies don't jiggle when you shake the pan. They may be gooey on the inside, but they are best this way, and there are no raw eggs, so they don't need to be fully cooked. Allow to cool before cutting. Store leftovers in refrigerator.