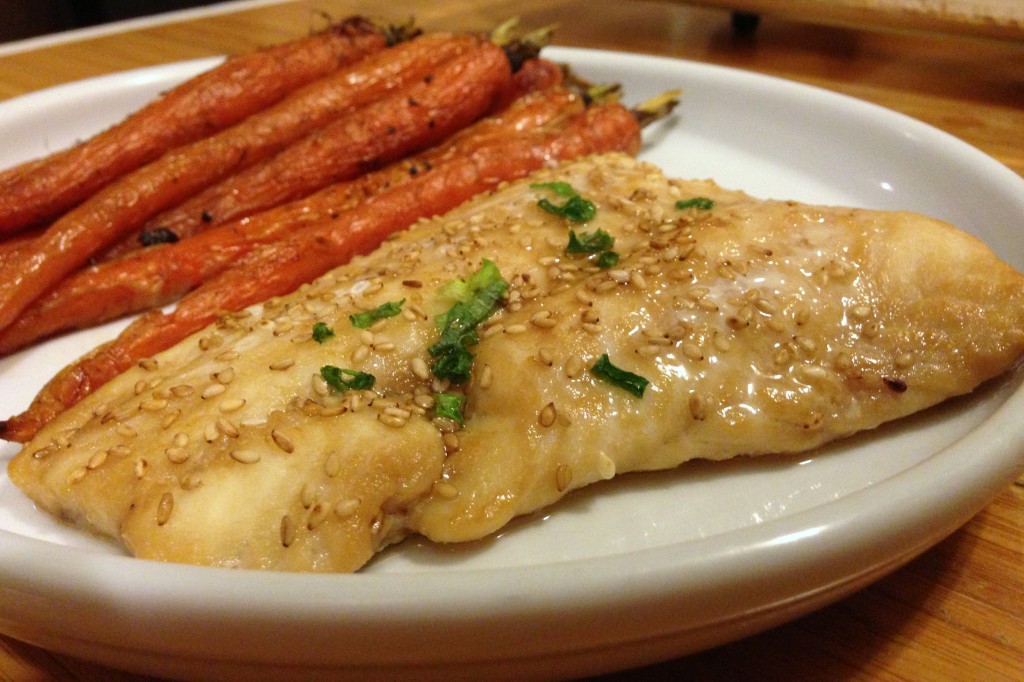 Serves: 3
Time: 50 minutes
Ingredients
1 pound wild-caught cod
For marinade:
1/2 cup organic, low sodium tamari (soy-free option: coconut aminos)
1/3 cup rice wine vinegar
1 tablespoon sesame oil
1 teaspoon minced garlic
1 teaspoon minced ginger
For garnish:
1 teaspoon sesame seeds
2 stalks green onions, sliced
Directions
In a medium bowl, combine marinade ingredients. Marinate cod in a zip-top bag or small shallow container for about 30 minutes. You could use this time to prepare my roasted carrots recipe (http://guesswhoscooking.com/2014/01/06/roasted-carrots/). You can add about 2 tablespoons of sugar (or honey or agave) to the marinade if you'd like the recipe to be sweeter and to achieve more browning, but I chose not to.
Preheat oven to 450 degrees F. Place cod on a baking sheet and bake for about 12 minutes, or until almost flakes with a fork. Top with sesame seeds, then broil for 2-4 minutes. Garnish with green onions and serve with a vegetable side (other suggestions – steamed broccoli, salad, sautéed green beans with garlic). Although I did not add sugar to my marinade, the sesame seeds gave it a nice crust-like crunch.