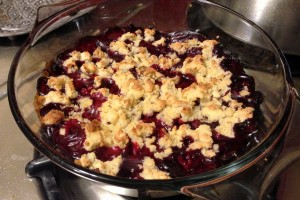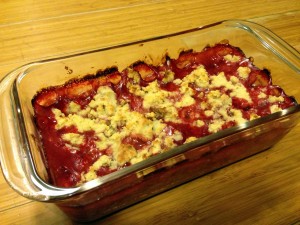 Anyberry – the newest superfood! You can get them at any grocery store, they're affordable, and they don't have to be shipped halfway across the globe in order for us Americans to obsess over them. Sounds great, right?
What I'm really talking about are any berries – raspberries, blueberries, blackberries, strawberries, or even cherries. These fruits that are rich in color are also rich in nutrients. They are in season during the summer, but you can also find them in the freezer section, or freeze them yourself when in season (instructions not included).
This recipe is gluten-free, dairy-free, and has no added sugar.
Serves: 4
Time: 1 hour
Ingredients
For filling:
12 ounces or 2.5-3 cups berries, any kind (fresh, or somewhat thawed frozen)
2 1/2 tablespoons organic/non-GMO corn starch or 2 tablespoons arrowroot starch
2 tablespoons lemon juice
16 drops liquid stevia
For crust:
1/4 cup coconut flour
2 tablespoons almond flour
2 tablespoons coconut oil, melted
2 tablespoons chopped nuts (pecans, walnuts, almonds, etc.)
2 tablespoons unsweetened almond milk
2 eggs (you can get away with 1 if needed)
dash of salt
10 drops liquid stevia
Directions
Preheat oven to 375 degrees F. Grease a pie plate or a loaf pan (or 4 ramekins) with coconut oil. In a medium bowl, combine berries (partially thawed if using frozen, and cut half if using strawberries), corn/arrowroot starch, lemon juice, and stevia. You may want to add more sweetener to taste, especially if using tart berries. Pour into greased dish and bake for about 30 minutes, or until outer edges begin to gel.
Meanwhile, combine crust ingredients in a medium bowl. When the filling is ready, remove from oven and break up clumps of crust over the top of the filling. Bake for 17-23 minutes, or until crust becomes golden brown. Let cool for at least 20 minutes before serving.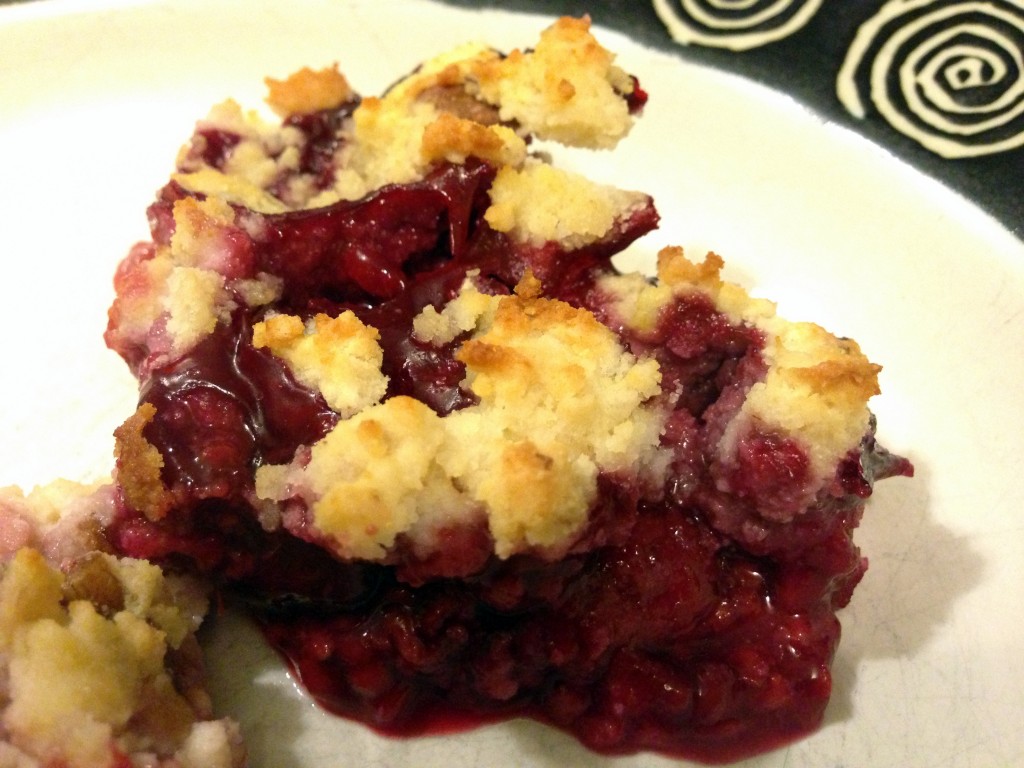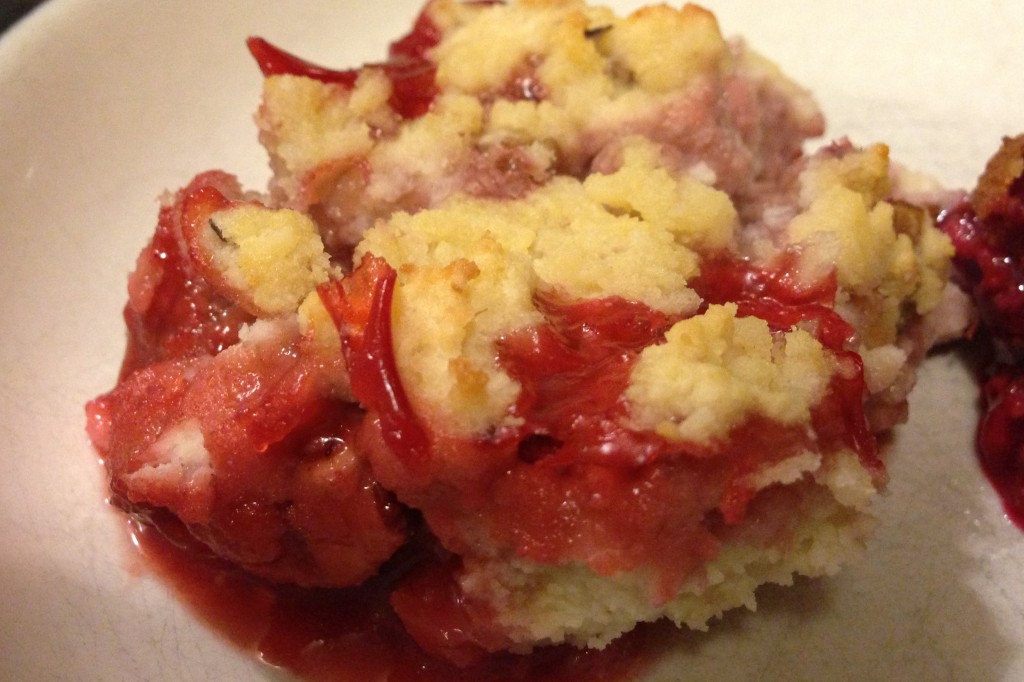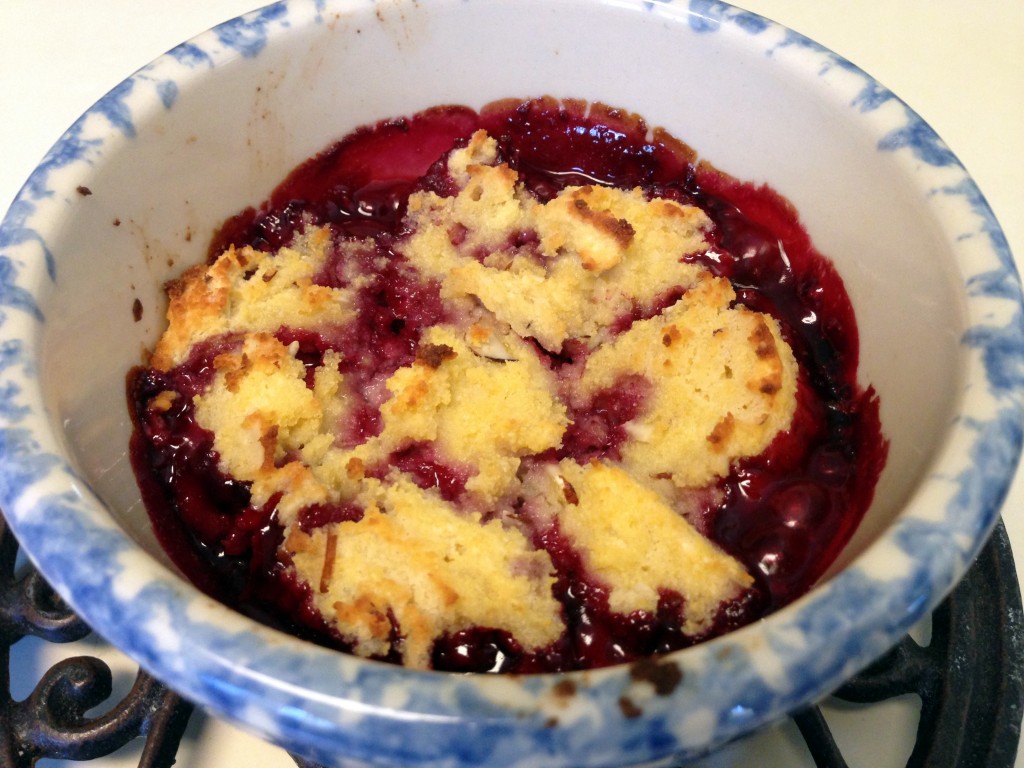 It goes great with homemade coconut milk blender ice cream (recipe below)!
Vanilla Coconut Milk Blender Ice Cream
Serves: 2
Ingredients
4-5 cubes frozen unsweetened almond milk
enough full-fat canned coconut milk to reach ice cream consistency
liquid stevia to taste (4-8 drops)
1/2 teaspoon vanilla extract
Directions
Add all ingredients to a small blender (such as a magic bullet or a smoothie cup attachment) or food processor and blend. Add more coconut milk if necessary, adding just a little at a time. Serve immediately.