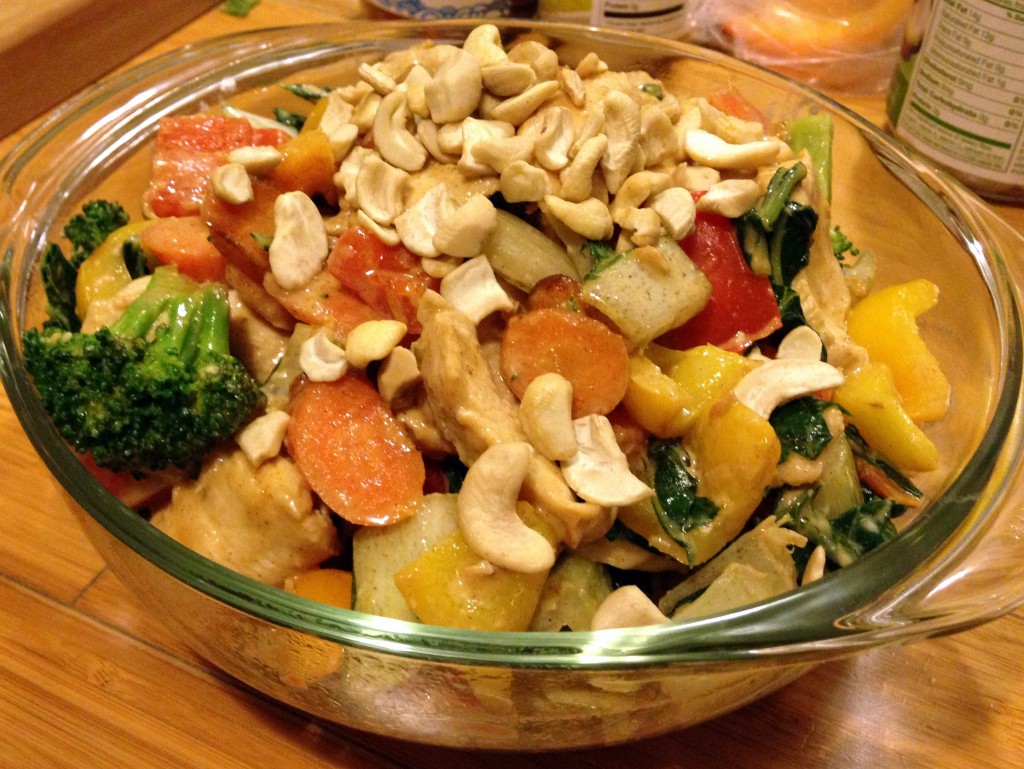 It tastes better than it looks.
Time: 45 Minutes
Serves: 4-5
Ingredients
1/2 Cup Chicken Broth
1 Tablespoon Organic Corn Starch or Arrowroot Starch
1 Tablespoon Organic Tamari
1 to 1.25 Pounds Boneless Skinless Chicken Breasts
6 Cups Vegetables of Choice
1 Tablespoon Coconut Oil, Divided
2 Tablespoons Chopped Cashews, Almonds, or other nuts
Sauce:
1/4 Cup Almond Butter (or Cashew Butter or Sunflower Butter)
1 Teaspoon Garlic, Minced
2 Teaspoons Organic Tamari
2 Teaspoons Fish Sauce
1/3 Cup Coconut Cream
8 Drops Liquid Stevia
Directions
In a medium bowl, whisk chicken broth corn starch, and tamari. Slice chicken breast into thin strips and place into chicken broth mixture. Chop vegetables into bite-sized pieces. Preheat a large pan on medium-high, then add 2 teaspoons coconut oil. Add chopped vegetables according to cooking time (see below). Preheat another large pan on medium-high and add 1 teaspoon coconut oil. Add chicken and stir occasionally until fully cooked and lightly browned. When vegetables and chicken are fully cooked, combine into one pan, add sauce, and stir. Top with chopped nuts and serve.
Some vegetables take longer to cook than others. Here is a list of vegetables, listed from taking a longer time to cook to a shorter time to cook, in my opinion. (Add vegetables at the top of the list first because they take longer to cook). Check out this link for a second opinion: http://recipes.howstuffworks.com/tools-and-techniques/how-to-cook-vegetables24.htm
Carrots
Onions
Cauliflower
Eggplant
Celery
Broccoli
Mushrooms
Asparagus (depending on thickness)
Bell Peppers
Summer Squash (Zucchini, Yellow Crookneck)
Bok Choy
Leafy Greens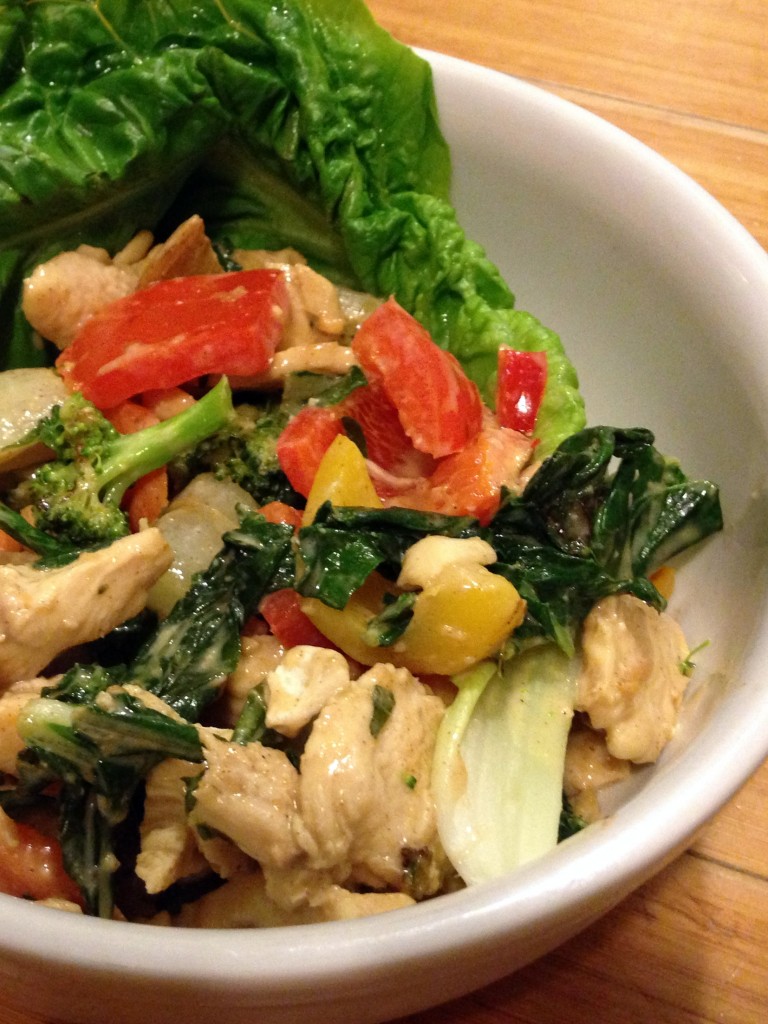 The beauty of stir fries is that you can use whatever vegetables you want, but here are the vegetables I used (also listed in the order I added them to the pan):
1 Cup Carrots, thinly sliced on the bias
1 Cup Broccoli, cut into small florets
2 Cups Red, Orange, and Yellow Bell Peppers, chopped into large chunks
3 Cups Bok Choy, sliced horizontally (I added the white parts first, and saved the leafy tops for the last 2 minutes)