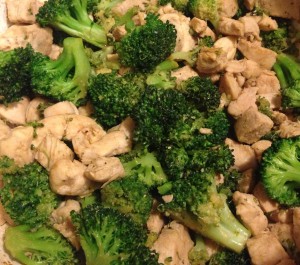 It's not fancy or particularly beautiful, but it's a simple recipe that requires as few as 5 ingredients. Add any kind of sauce you want to spice it up! Ideas: Curry sauce, marinara sauce, stir-fry sauce, teriyaki sauce, salsa,  chimichurri, etc.
Serves: 4-6
Ingredients
1 Tablespoon Coconut Oil
1 1/2 Pounds Chicken Breast, Cubed
12 Oz. or 5 Cups Broccoli, Cut into Florets
1 Tablespoon + 1 Teaspoon Minced Garlic
1/4 Cup Chicken Broth
1 Tablespoon Organic Tamari, or Coconut Aminos for Soy-Free Option (Optional)
Salt & Pepper to Taste
Directions
In a large pan, heat coconut oil over medium high heat. Add chicken and cook over high heat it until starts to turn golden brown. Add garlic and cook for about 1 minute, then add broccoli, chicken broth, and tamari. Cover and cook until broccoli is fork tender. Add salt and pepper to taste.