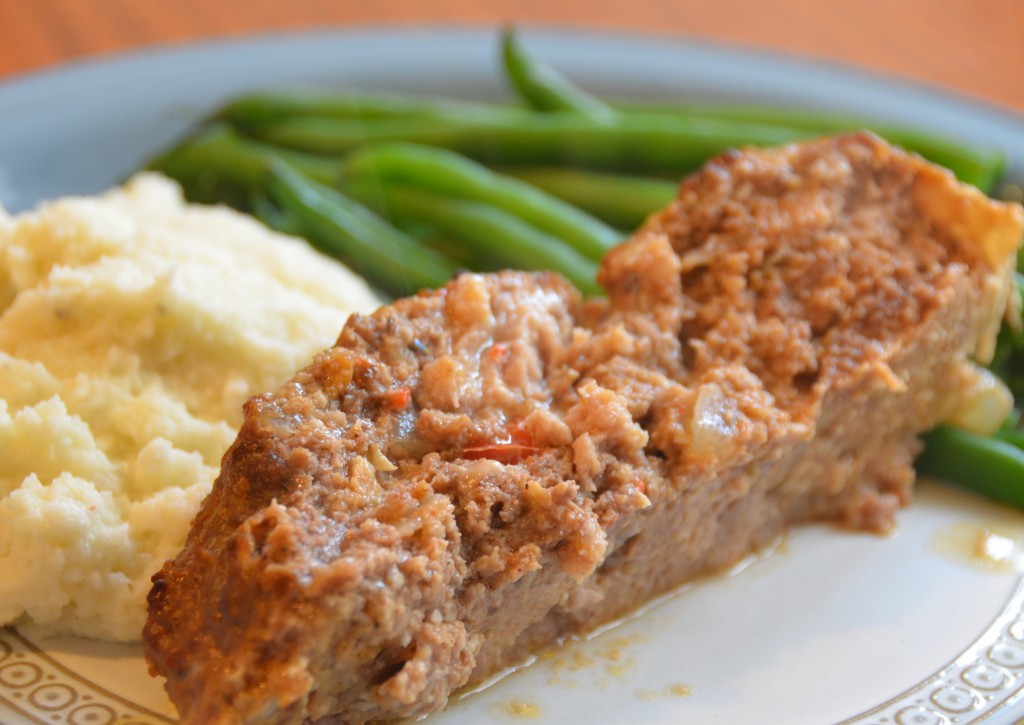 This recipe goes great with Cauliflower Mash!
Ingredients
1 Tbsp Coconut Oil
1/2 Cup Bell Peppers, Finely Chopped
3/4 Cup Yellow Onion, Finely Chopped
1/2 Cup Celery, Finely Chopped
1 Tbsp Worcestershire Sauce
1 Tbsp Hot Sauce (Tabasco preferred)
2 tsp Garlic, Minced
1/2 Tbsp Salt
1 tsp Black Pepper
1 tsp Cayenne (Red) Pepper (less if you don't want it to be spicy)
1/2 tsp Ground Cumin
1/2 tsp Ground Nutmeg
1/2 6-oz. Can Tomato Paste (5 Tbsp)
1/2 Cup Light Coconut Milk (or milk if you tolerate dairy)
1/2 Cup Almond Flour (most other flours would probably work too – wheat flour, cashew meal, etc.)
2 Organic Eggs, Lightly Beaten
2 lb. ground meat, organic preferred.
I've successfully tried the following combinations:
1 lb ground beef (93% lean) + 1 lb ground pork
1 1/2 lb ground beef (93% lean) + 1/2 lb ground pork
1 lb ground pork + 1 lb ground turkey
2 lb ground chicken – it is a little dry but still flavorful
Directions
1. Preheat oven to 350˚F. Preheat a frying pan on medium-high heat. Melt coconut oil in pan, then add bell peppers, onion, celery, Worcestershire sauce, hot sauce, and garlic.
2. Add salt, pepper, cayenne pepper, cumin, and nutmeg, and cook for about 5-6 minutes, or until vegetables are tender.
3. Add tomato paste and coconut milk, and cook for about 2 more minutes. Place mixture into a large bowl and let cool.
4. When vegetable/spice mixture has cooled, add almond flour, ground meat, and eggs. Mix well (go on, use your hands!).
5. Shape meat mixture into a large loaf on a cookie sheet. Bake for 25 minutes at 350˚F, then 25-35 minutes at 400˚F, until meat is done (165˚F internal temperature).