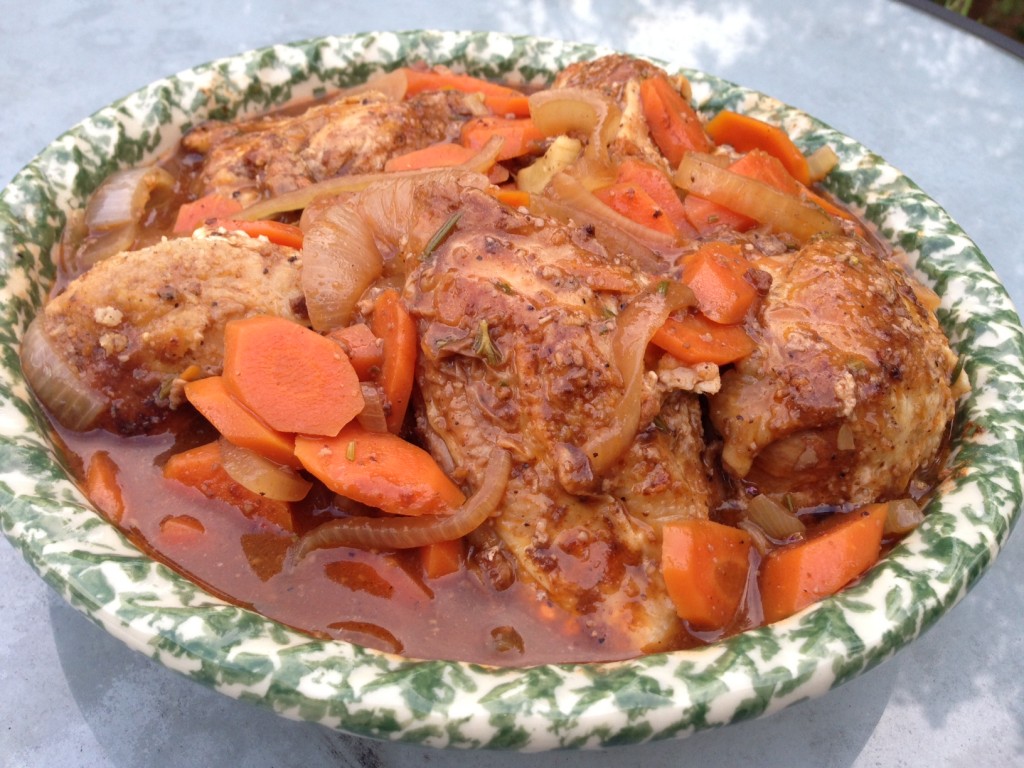 Makes: 4 servings (1/2 breast each)
Time: 45 minutes
Ingredients
1/4 Cup Almond Meal
2 Bone-In Split Chicken Breasts (organic preferred)
1/2 tsp Salt (sea salt or Himalayan preferred)
1/2 tsp Pepper
2 Tsp Arrowroot Starch or non-GMO corn starch
1 Tbsp Coconut Oil
3 Large Carrots, Sliced Thin
1 Medium Yellow Onion, Sliced
1 Tbsp Fresh Rosemary, Chopped
2 1/4 Cups Low-Sodium Chicken Broth, Divided
1/2 Cup Red Wine
1 Tbsp Tomato Paste
Directions
1. Cut chicken breasts in half on the diagonal. Sprinkle salt and pepper over chicken. Dredge chicken in almond meal in a dish.
2. Whisk arrowroot starch with 1/4 cup chicken broth and set aside.
3. Heat 1 Tbsp coconut oil in large pan over medium-high heat. Add chicken breasts and cook on each side until lightly browned on both sides, about 5 minutes per side. Transfer to a plate.
4. Add carrots, onions, and rosemary, and cook, stirring occasionally, until vegetables are softened, about 5 minutes.
5. Add chicken broth, wine, and tomato paste. Bring to a simmer and add chicken to pan, along with any juice on the plate.
6. Cover, reduce heat to a simmer, and cook until internal temperature of the chicken reaches 165 degrees, about 15-20 minutes.
7. Transfer chicken to a serving plate. Increase heat to medium-high. Stir arrowroot mixture and add to pan. Stir until sauce is thickened, about 1 minute. Pour sauce and vegetables over chicken and serve.